What to Expect From the 2020 Track Season
The Boys and Girls track teams are both coming off of remarkable seasons last year and are looking to return to the Drake Relays.
The Liberty High Boys and Girls Track teams saw an excellent 2019 season and hope to improve immensely in the 2020 season. With almost every single team member returning, the Bolts look to make it over the hurdle this season.
The girls team is coming off an impressive season and are getting most of their runners back from last year. They had many events qualify for the Drake Relays last year. Making it to the Drake Relays is a very high honor as a high school track runner. It is where the best of the best in Iowa come to compete against each other. 
Taylor Cannon, senior, is one of the many returning upperclassmen who is looking to improve upon her already impressive track career at Liberty High. Cannon placed 4th the 100m hurdles at the Drake Relays last year. Cannon, along with qualifying for Drake in the 100m hurdles, also qualified alongside her teammates in the 4×100 relay and 4x100m shuttle hurdle relay.
Although last year the Liberty Girls 4x100m team was disqualified due to faulty handoff, they are looking to return to Drake and improve greatly on their times. Liberty's shuttle hurdle relay team also qualified for Drake. They placed 9th last year and are looking to jump up in the rankings this year. Liberty's Sprint Medley and 4x800m also made it to Drake last year placing in the top 20 for both events.hey are looking to decrease their times and make a return to Drake.
"I am looking forward to this season and what it holds. I look forward to the State track meet and see how much I improved as well as how much my teammates improved. I am looking to improve on my block starts this year as well. I am not the best at coming out of the blocks, but I am getting better," said Cannon.
Another returning athlete is Ashlyn Keeney, sophomore, who is returning off her phenomenal freshman season. She capped off last year's season as Liberty's first Gatorade Player of the Year for track and field. After a record-breaking season, Keeney is looking to improve on her times from last year. She placed first in the 3000m at Drake last season, becoming Liberty's first track and field runner to take first place at the Drake Relays. She also took second place in the 800m. Keeney is looking to defend her title along with adding more to her resume.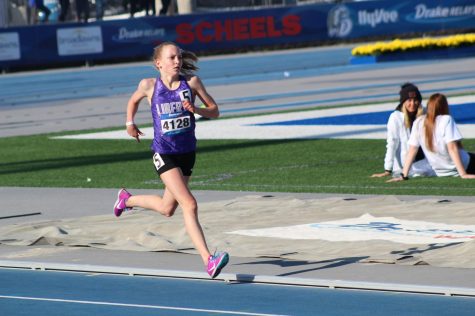 The Liberty Boys track team has all their runners returning except for 2019 graduate Dylan Schmidt. The boys team had many events qualify for Drake last year, including their 4x100m, sprint medley, and the 400m hurdles by Drake Woody, senior. With Liberty getting all their juniors back, they are looking to return to the Drake Relays and cap off their high school track career with bang.
Liberty also added a couple of freshmen to their roster too, Jalen Weick and Nathan Kinzer, both of whom were standouts from the North Central track team. They are looking to make an impact this season as one of the many freshmen clawing to make a varsity travel roster spot.
Weick said, "I am so happy to be able to be part of this team. I love the leadership that the older guys show, and they help me and all the other freshmen on the team."
This year, the boys team has a new head coach. Coach Nick Borchert, who was originally the distance coach, will stay as the distance coach but will be taking the baton this year as the head coach.
About the Contributor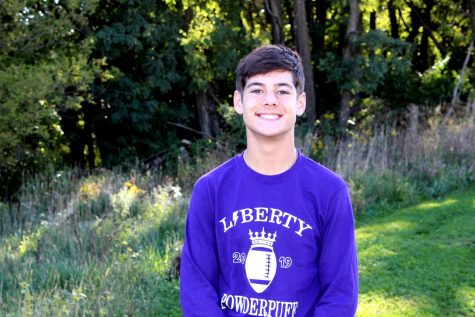 Brody Fishman, Reporter
Brody is a senior at Liberty, and this is his second year on the Live Wire staff. Brody plays football, baseball, and also runs track. His favorite subject...