Back to School, not to Normal
While this year is filled with anxiety for many, students that are new to Liberty are facing another level of uncertainty as they enter the world of online learning with unfamiliar faces.
On March 13, kids all over Iowa left school for spring break, expecting to return after the week was up. Seven months since the school closure, and students are beginning to return for education.
The Iowa City Community School District (ICCSD) made the decision to start the year online. This also meant sports and arts were on hold until students were back in the buildings. While this decision was deemed essential for the physical health of students, it has had the opposite effect on mental health.
According to The New York Times, pediatricians are more worried about mental health than they are about physical health. This past summer has brought more children and teens into the doctor's office for mental health concerns than ever before. The Kaiser Family Foundation predicts online school is likely to increase these concerns. 
All students are being impacted by these mental health struggles of online school, however students who are new to ICCSD and Liberty are adjusting to a completely new school with completely new people on top of these mental health concerns.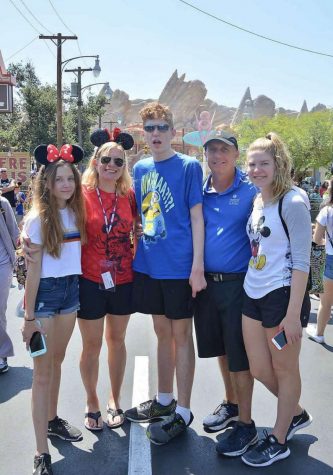 Jojo Klein, freshman, moved to Iowa from Arizona in April. While her brother and sister both attended Liberty last year, the school is completely new to her. Klein said online learning has been a challenge for her, especially the academics.
"The most difficult part [of online school] has been making sure all my assignments are turned in and on time because a lot can be lost on the computer. It gets confusing at times when the teachers are all doing things differently… I am not the biggest fan," said Klein.
Klein isn't the only new student struggling to process being at a new school and adjusting to online learning.
Alexis Boosalis, junior, and Chante Hardaway, junior, are both new to Liberty this fall. For them, school has always been a place to build relationships with friends and teachers and grow academically, but this year has changed that.
"It was awful when I found out that we weren't going back to school right away because it's really hard when you don't know your teachers… If they knew me as a student they'd know I turn all my stuff in on time, I'm not a bad student, but now if I were to ask for an extension on anything then they could think I was just putting it off," said Boosalis.
The uncertainty surrounding academics is only part of the issue as Boosalis mentioned. Other new students are struggling with the lack of personal connections to people at Liberty.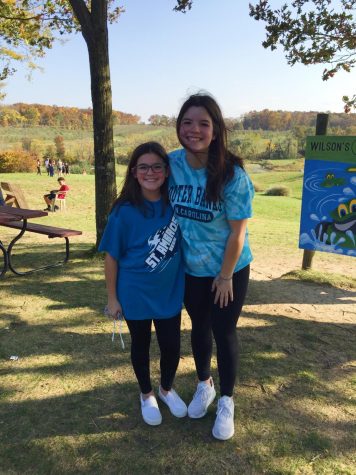 "The hardest part is you just don't know anyone. It's not like normal school where you'd go and see who's in your class and you meet new people… You don't have that social interaction with people," said Hardaway.
Before the decision was made to begin the academic year online and to cancel all extracurriculars, Hardaway began the volleyball season with the Liberty team. This was a way for her to make friends and acclimate to the environment and the people of the school. 
"I think playing volleyball was so helpful because you meet so many people from it and the coaches were so helpful and helped me adjust to the school… Everyone was so nice," said Hardaway. 
The volleyball season was halted abruptly as the school year started, but Hardaway had a taste of what to expect when she was back in the building again. Unlike Hardaway, Boosalis had no real opportunity to meet anyone from Liberty.
"Making friends here is so hard, [and] I've really been struggling with that… You can't just lean over to someone and introduce yourself and make a joke. I love talking to people, I love when people talk to me, I'm just very social, and I really struggled with that online," said Boosalis.
While being a new student during this time is especially stressful, Hardaway and Klein said Liberty has made the transition a little easier. 
"The teachers and students are super nice and have always been there to help me when I need it," said Klein.
"
I hope to just make a new community of friends, meet new people, and have a good experience being the new kid."
— Chante Hardaway
The environment of Liberty stuck out to Hardaway immediately, and she was impressed with how the school presented itself.
"All my teachers have been super nice, administration was super helpful, [and] it was overall a really good experience with the transition… At Liberty, you can tell everyone can share their opinions and isn't judged," said Hardaway. 
Though the beginning of the year has been hard, Hardaway and Boosalis have big hopes for what the rest of the year will bring.
"I hope to just make a new community of friends, meet new people, and have a good experience being the new kid, finding new things to do and just adjusting," said Hardaway. 
Boosalis said, "I just wanna enjoy it. Obviously, I want to get good grades, but my goal is to actually be able to make friends and get to know people. It's really hard right now, but I'm hoping once COVID ends, it'll all be easier." 
About the Writer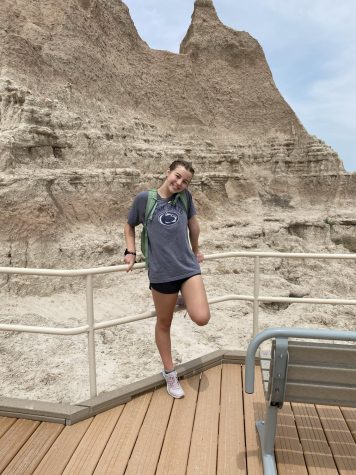 Amelia Cleary, Managing Editor
Amelia Cleary, junior, is a first year staff member. Outside of school, Amelia spends most of her time dancing at Nolte Academy. She also enjoys hiking,...