Jan Smith answers commonly asked questions
As students grow restless in their classrooms, the library impatiently awaits students' return. Clearing up some of the confusion, Jan Smith answers Liberty students' questions.
This year, Liberty required a more 'hands-off' approach for the sake of containing the possible spread of COVID. Because of that, a lot of the open areas that were once provided have been altered to make them less available to students. The Liberty library has always been a key resource to its students, and after the changes to make it more closed off, many students are left wondering just how much do we still have access to. Jan Smith, Liberty Librarian, provided answers to some of the Bolts' most commonly asked questions about the library.
Q: In what ways will the Library run the same this year?
A: The library is still fully staffed and working to meet the needs of all students and faculty. Although our doors are closed, our online library catalog is available 24/7 for students to browse and select materials they need for classes and for leisure. 
Q: In what ways will the Library run differently this year?
A: The biggest change is having no students in the library! We miss students and the energy and joy they bring to our work. Instead, we have to communicate via email, telephone, and text message. Teachers are contacting me about books for their classes, help with databases and research, and wondering how to get independent reading materials to their students. Instead of students coming to the library, this year I am pushing into classrooms. For example, I went to Mrs. Brown's US Lit Honors course to give some book talks and show students how to place a hold in the catalog. I am also Zooming into online classes to give book talks, demonstrate how to search in a database, and showing students how to use the catalog. 
Q: When are we allowed to enter the library?
A: I don't know. We are waiting for direction from the district about allowing students back into the library. We have suggested browsing appointments that students could sign up for–10-15 minutes of perusing the shelves–so that students can see books and find what they need. But as of now, we don't know. 
Q: Who would be the best person to talk to and how if a student had any questions?
A: Students are welcome to email me ([email protected]) with any questions. 
Q: How long do you think these rules will be in place?
A: I think that's the million-dollar question! We would love to have students in the library but would have to reinforce rules about social distancing, mask-wearing, and hand sanitizing. Right now we are putting books returned to the library in quarantine for 3 days per recommendation from the American Library Association. Once they have been out of circulation and untouched for 3 days, we re-shelve them and make them available to patrons. 
Q: How could a student check out a book?
A: Once a student has selected a book to check out, the best way to get that book is to place a hold in the Destiny catalog. Here is the step-by-step process: 
Go to the Liberty High School website

Select the Library tab (middle of the page)

On the left, select Destiny Library Catalog

Log in/Sign in with Google–select school account

Select Catalog button on top

Search using keyword, title, or subject OR go to Destiny Discover 

Once a title is selected, click the HOLD IT button. 

The library will pull the book, check it out to you, and deliver it to your 1st-period class

We also have ebooks and audiobooks available through MackinVia which students can access from the Library homepage. This would be a good time to try listening to a book or reading on a device. 
Students can also utilize the Iowa City/Coralville/North Liberty Public Libraries digital collections using their student numbers on their new Liberty IDs–the AIM card. Students can check out digital copies of books from any of those collections on their own. 
Q: How would a student print something, and can they?
A: Well, since so much is happening online, there isn't a lot of printing going on. But when students have to print something, they should share it with their teacher and ask the teacher to print it. The library staff will deliver it to the classroom. 
Q: How does tech support work now?
A: Tech support has also moved to an email platform. If students are at school and having trouble with their chrome book, they should email Mr. Watts, leave their device in the front office, and he will pick it up and repair it right then if possible. He will then return it to the front office where the student can pick it up. 
Students and faculty who need tech support should email Mr. Watts at [email protected]
About the Contributor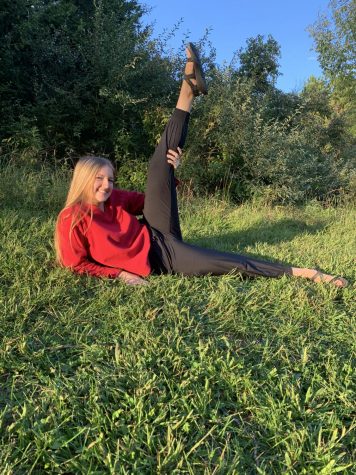 Gabrielle Brecht, Web Manager
Gabrielle, mainly known as Gabby, is a second-year writer and this year's Web Manager on The Live Wire. A junior at Liberty, she enjoys playing in the...