Teacher's Thoughts on Zoom
Liberty staff shares their opinions on the video conferencing app Zoom.
A popular tool used by many schools during online learning is Zoom. Zoom is a video conferencing app founded by Eric Yuan in 2012. The program was ranked number one in video conferencing software as of 2019. With the switch to online school, many teachers use this video platform. Liberty teachers Marianne McGrane, Science, and Darien Robins, English, expressed their opinions of the app.

"
I need to be in my classroom and see the reactions from my students and handle my materials while teaching. I was not happy teaching from home. I didn't like the lack of connection with my students."
— Marianne McGrane
"I think Zoom is ok," said Mcgrane, "but I wish that we would use Google Meet instead because it has closed captioning technology. I think it would be a better service to more students with that feature. It would be nice for all the students to have to have their cameras on all the time so that I can see them; it's hard to get interaction with a black screen."
Robins said, "I don't mind Zoom. It would be nice if a school-focused application existed that directly integrated teaching tools. I can pair it with other tools, but every step of complication makes the process tougher on students' executive functioning skills and introduces new issues. Students have told me every year that they appreciate how few technical tools I incorporate in class, but I know that's made my online teaching a little blander (at the expense of being less complicated and stressful)."
Liberty staff can agree that there are many advantages and disadvantages when it comes to the app.
"Advantages [of Zoom] would be to give students the flexibility to learn on their time or schedule IF the teacher has prerecorded lessons to follow. Another advantage would be for students with anxiety issues or illness that keeps them from being able to attend an in-person learning environment," said McGrane. "Disadvantages would be the lack of relationship building that happens between teacher and student or student and student. Another disadvantage would be students who lack the executive function skills such as organization or time management to self regulate in a low supervised environment of online learning."
Fellow Liberty teacher Shishonee Hughes, Science, has similar thoughts on the positives and negatives relating to Zoom.
"Advantages are [the] safe learning environment in a pandemic, various [technologies] like Pear Deck, Kahoots, etc… do work with it while disadvantages are when we [teachers] share our screen
you can't see all the kids so it is hard to 'read the room' Kids don't all turn on [the] camera, so you don't know if they are engaged," she said.
A different type of concern many teachers have with Zoom is the aspect of teaching and how not be able to physically know if the students are actually learning. They want to make sure kids understand what they are learning about and getting the right information across.
"Students today are the most technically savvy generation, but they're still adolescents. Working on a computer requires a high level of 'grit' and executive functioning skills. It's a lot to demand of students," said Robins. "The precariousness of what the learning environment at their home might look like adds another layer of difficulty–as do microphone issues, computer issues, and anxiety within the online environment. I think the application is, at face value, easy to understand–but the complications of how to learn via Zoom make for quite the challenge."
McGrane also shared her teaching/learning struggles with the app.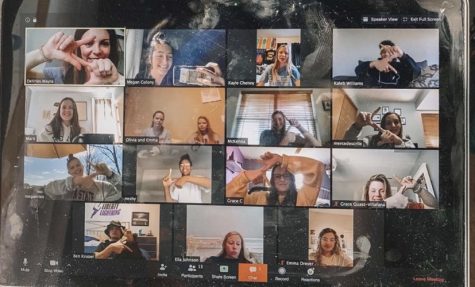 "I think that it is difficult for those students who have a kinesthetic (learning by doing) learning style to learn remotely. Most students have multiple ways to learn, but not all of these styles work well over remote learning," she said. "For me personally, it's very difficult to teach over Zoom. It does not fit my teaching approach, which is why I advocated myself to teach hybrid after we came back from an online setting. I need to be in my classroom and see the reactions from my students and handle my materials while teaching. I was not happy teaching from home. I didn't like the lack of connection with my students."
Teachers differ in their opinions about this resource. Nonetheless, the Liberty Staff are continuing to improve teaching through using Zoom as the school year carries on.
About the Writer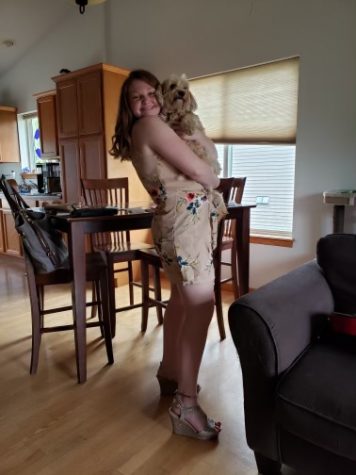 Chloe Oppelt, Reporter
Chloe Oppelt, junior, is a first year staff member. She is involved in cheerleading and tennis at Liberty. Outside of school, she enjoys working, shopping,...