Liberty Volleyball Achieves Greatness Together
The 2020 Liberty Volleyball team had all grades step up and compete at a very high level.
The 2021 senior class is a very special one and certainly talented in all aspects, but the seniors on the Liberty volleyball team are a different case when it comes to their accomplishments. Seniors Hailey Hested, Lauren Roman, and Addie Schmierer have all been in the program since day one and have been there for all the team's ups and downs. 
The first season of the program was in 2017, and in that year alone, the team finished with a record of 13 wins and 20 losses. The team continued to build on that and in 2018 ended the season with 19 wins and 15 losses.
With huge improvements in 2019 and 2020, the team finished with a combined record of 58 and six. This amazing record has come with help from the three seniors as well as some underclassmen starting to pave their legacy at Liberty. 
All three seniors said one of the best parts of the season was making it to state and to the championship game, but they also mentioned how they battled being leaders of the team this season.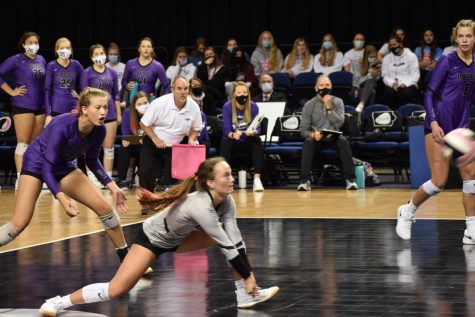 "The best part about others looking up to you, especially the underclassmen, is that you know you are doing something right and might impact them in the future and in a really good way. Seeing others look up to you is very uplifting and something I really enjoy and am proud of. You work very hard as a leader and when you see others look up to you it is very rewarding," Schmierer said.
Seeing people look up to you and follow your actions is always an amazing and rewarding sight, but, on occasion, it can be the mentors learning from their peers instead.
"I learned a lot from our younger players this year, but one major thing was how to have fun. We have always been a pretty intense and serious team, but the younger girls brought a light and fun side that really helped us stay loose and play to our best ability. Some of my best volleyball memories were from this year," Roman added.
Schmierer also said that one big thing she learned from the underclassman was how to deal with stress. There was not much pressure on the seniors to perform when they were young, but that was different these past two seasons. Schmierer had to put herself in their shoes and make sure they were doing okay and help anyway she could.
Not only was this team success with their record, but the team had very good chemistry and worked very well together.
"I knew that no matter what happened the team would have my back and I would have theirs no matter what. Being able to be that back row leader was really cool and I loved playing with this team. We had such good chemistry and it was such a good experience!" Schmierer said when talking about what it was like to be a leader of the team and the libero, which is the leader of the back row and the defensive aspect of the game.
Hested added one of her favorite memories of the season was helping and mentoring backup setter Mariah Rollins, saying it was fun because Rollins reminded Hested of herself when she first came to high school and was very quiet. Hested is excited to see Rollins break out of her shell over the next three years. 
All three seniors may have played their last game in a Liberty uniform, but it will not be over for long. Schmierer has recently committed and signed with Drake University to play volleyball and study biology/pre-med. Hested will be heading to Mount Mercy University for volleyball as well and plans to study either biology or animal science. Lastly, Roman plans to play volleyball at the Division 3 level, which is a smaller college, an example being Coe College. 
Being an underclassman on varsity is not always easy, but being on a team that only lost 3 games and made the state championship game, brings a little more responsibility and trust. Freshman Mariah Rollins and sophomores Shelby Kimm and Cassidy Hartman were a huge part of the success of this year's season.
"
Ever since I've been at Liberty the seniors have been amazing. This year the seniors did a great job of keeping the season relaxed but also competitive. It was really fun playing with them"
— Shelby Kimm
This year's senior class was very influential. 
Rollins added that the seniors on this team were very fun and great role models for herself. Hartman added that they took on the leadership role really well and held standards very high to compete at the level they did. 
These underclassmen not only helped the team in stats, but they also led the team. Hartman and Kimm led the team in kills with 338 and 194 kills respectively. Those 338 kills put Hartman at the third-ranked volleyball player in 5A and fourth in kills per set. 
"Being the top hitter on the team helps when you have good teammates to be there for you. I could not hit my best without our defense playing well and our setters!" Hartman said about being the top hitter.
Rollins, being the backup setter, was second on the team in assists with295 trailing senior Hested who had 476 assists on the season. Rollins was asked about what it was like being with Hested at setter. 
"Being a setter with Hailey was fun. She was always encouraging and giving corrections and that helped me a lot," Rollins replied.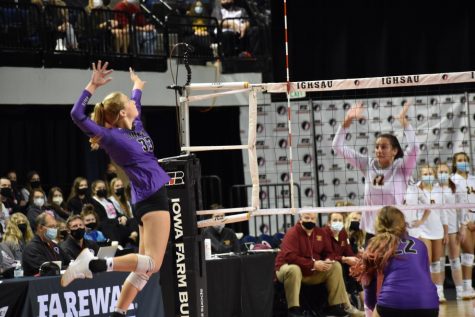 With all the COVID procedures, this made attendance for all regular-season games limited to basically only parents. So when the team got to state and finally got to have a full crowd and a real student section, it was the first time all year. For Rollins, the first game at state was very nerve racking and very loud. But once she settled in, she said she had an amazing time. 
"Finally having a student section at state was really cool. So I would like to thank them because we knew that all those people were there cheering us on," Kimm added. 
With these three underclassmen all returning next year, they are all likely to be starters. They look to use this experience with the seniors and look to keep the strength of Liberty's volleyball program going. 
About the Contributor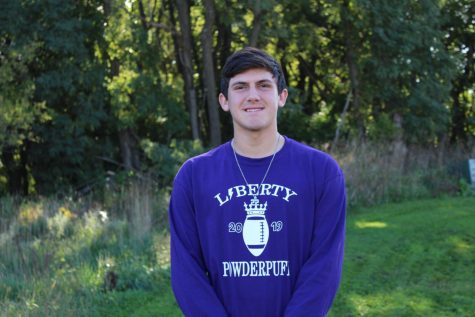 Zack Anderson, Social Media Chair
Zack is a senior at Liberty, and this is his second year as a part of the Live Wire staff. He plays golf and baseball for the Bolts. He also participates...