Bill passed in Iowa to offer 100% In person learning model
Governor Kim Reynolds signed a bill to require an 100% in-person option. Students share their opinions and thoughts on the issue.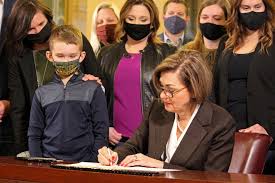 On January 29,  Governor Kim Reynolds signed a bill mandating school districts to offer a 100% in-person learning model starting February 15. This new law means schools will not offer the hybrid model to students, and instead, students can either be online 100% or in-person school 100%.
Though the enrollment switch is offering an immediate switch on February 15,  students would be switching in the middle of the trimester. It would affect students' schedules and teachers. Students online may have teachers from other schools, and it can be difficult to switch due to different teaching plans.
Liberty is giving the option for students to be at home the last three weeks of the trimester asynchronous. For this model,  students will be able to stay home and will have the responsibility of getting their work done alone. Then, at the end of second trimester students can have a smooth transition to their desired model without schedule and teacher changes.
Some students may choose to stay online the remainder of the year. Cynthia Shields, sophomore, has been online learning all year and continues to. 
"Honestly, I worry a lot about[offering 100% in-person learning]. I feel like our governor isn't doing what is right to protect our state… it's irresponsible of her to send us back to school 100% in person. We all should be on quarantine to make the cases go down, [and] in my opinion, that should have been one of the first steps to bringing students back in person. It also worries those in my household, for the same reasons," Shields said.
This change has come quickly for students, staff and families.
 Hayden Thompson, senior said "[The bill] Feels rushed. Doesn't look like cases are going down and Reynolds just removed the mask mandate which will probably lead to more cases."
Gracie Gingerich, senior, said
"
"I think it's a good option for people who learn better in person rather than online. And a chance for some type of normalcy this school year.""
— Gracie Gingerich
About the Writer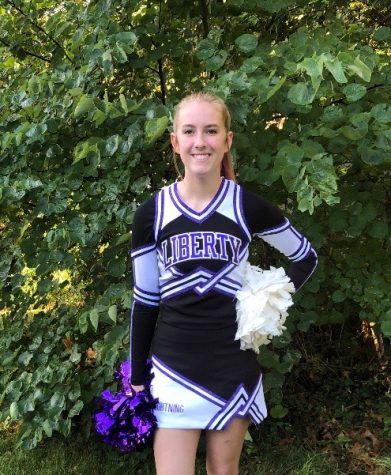 Emma Johnson, Reporter
Emma Johnson, junior, is a first year staff member. At Liberty, she is involved in cheerleading. Emma works at a consignment store and loves thrifting...