Liberty hires a new head football coach
Iowa City Liberty…is a once-in-a-lifetime opportunity.
Liberty High School will have a new face on the sidelines and around campus next school year. On Monday, March 29, Liberty Athletic Director, Mike Morrison, announced that James Harris would be the new football head coach via Twitter. 
Harris has been teaching and coaching for Washington, Iowa for the last three seasons. During his time as head coach, he led the Demons to a 21-7 record including an impressive 8-1 record in 2020. 
"It's bittersweet for me to leave Washington, which is where I graduated from, and I got to coach great young people and coach with great coaches," said Harris, who met with his Washington players Monday and met with Lightning athletes on Wednesday, March 31. "It's with a heavy heart that I do this, but I do it because I believe the Iowa City Liberty job is a once-in-a-lifetime opportunity," Harris stated in an interview with The Gazette. 
Being a head coach always has a lot of responsibilities by itself, but being a new head coach at a new school will bring much more to Harris' plate. 
"
If all we have taught them is football, then we have failed them as coaches,"
— Coach Harris
Harris plans to tackle the family aspect of the team. One value he takes seriously is that he and his coaching staff treat their players like they would treat their own sons. Another aspect of coaching he works hard to teach his players is that football is much more than just a game. He wants to establish a culture that instills in them lifelong values of discipline, accountability, teamwork, and sportsmanship.
"If all we taught them is football, then we have failed them as coaches," Harris said.
The Liberty football culture is a deeply rooted one for only being established five years ago. Harris' beliefs will help add to the groundwork that was previously laid by expecting players to become better human beings while pursuing success on the football field.
 "I believe in servant leadership where the needs of others are put first to help people develop and perform," said Harris. "My intention is to instill these character qualities into the team for them to use in the community." 
Liberty had a total of 35 applicants for the head coach position. Morrison noted why Harris fit the bill for Liberty. 
"We were looking for someone who fits our BOLTS culture. We wanted a coach who would bring the same culture we want in our building to our football program. Coach Harris is an excellent fit for us. He will bring a sense of belonging to our football program, to players, fans and community," explained Morrison.
The coaching change will be a big adjustment for players who have only ever played for Coach Gordon. Max Beckman, junior and center, explains what he looks for in a good coach: "I look for someone who can really connect with the players. Someone who is able to be compassionate and have fun with us… makes every practice and game that much better. Even through all the fun, you still need someone who is able to push you to be your best and keep you disciplined. I want a coach that can be someone I can also rely on to help me grow as a student and a person outside of the game. With Coach Harris, I knew this could be a guy that helped get our team to the next level and still help everyone accomplish their personal goals."
During the first meeting with Harris, he addressed plans for the summer for lifting and camp, along with recruiting new players to the program. . The new beliefs of the team, which include Harris' new ideas and ways of coaching, were also mentioned.
"I was very impressed with how well-spoken he was. He knew what he was talking about and has a great vision for our team. I am super excited to get to know him, and I think he will be a great coach to look up to and learn from," said Carter Webb, sophomore. 
With a new coach, a whole new game plan and play style will be something players and coaching staff have to adjust to.
"I look forward to the new coaching style, especially a new scheme and playbook," Webb stated. "I think it will work very well with the type of athletes we have here at Liberty. It will be a big challenge for our team but it will be a great addition to our program."
"
The goal is to help [special ed students] excel to their potential by helping them to recognize and overcome obstacles to learning."
— Coach Harris
While Harris may be new to Liberty, he isn't new to coaching and teaching. Harris has previously coached for his alma mater: Washington, Iowa. At Washington, Harris has been a part of the special education department and plans to do the same work for Liberty.
 "I am a special education teacher who specializes in developing educational pathways for students with academic and emotional challenges. The goal is to help them excel to their potential by helping them to recognize and overcome obstacles to learning," Harris explained.
As far as his personal life goes, Harris is a 37-year-old, Coe College graduate, and Coe football player. He has a girlfriend of two years, and a 14-year-old daughter, who both plan to relocate to the North Liberty area with him. Harris plans to put roots down in the Liberty district, so he can really invest in the team and the community. 
Harris is a welcomed new face in the football program, and many students are excited to get to work with such a dedicated coach.
About the Contributor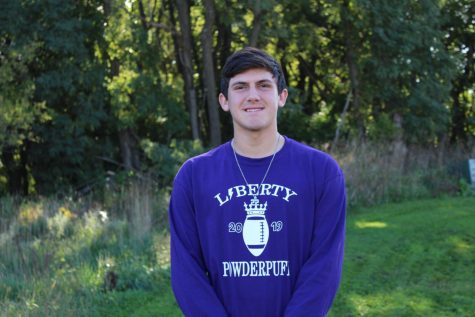 Zack Anderson, Social Media Chair
Zack is a senior at Liberty, and this is his second year as a part of the Live Wire staff. He plays golf and baseball for the Bolts. He also participates...