A Life on Court
Ella Gilbert, freshman, has been playing tennis practically her whole life. Once she reached high school, she knew what she wanted: qualify for State tennis.
Ella Gilbert, freshman, made history this spring by becoming the first tennis player in Liberty history to qualify for State. 
Like many kids, Gilbert started playing when she was in kindergarten, but soon became serious about playing. She cited her family as the reason she started playing.
"I started playing in kindergarten and it was more for fun. After a couple years, I started playing more seriously, taking lessons, and playing tournaments," Gilbert said. "I began playing tennis because a lot of people in my family play. I started playing tournaments in about third grade, and I really enjoyed competing."
Gilbert's father also had a huge influence on her playing.
"My dad is my mentor. He has been at every match since the beginning. My dad played tennis when he was younger, and he has taught me so much," said Gilbert. "He spends about half of his free time on the court with my brother and I, and the other half watching YouTube videos about tennis. I wouldn't be where I am today without my dad."
Gilbert dedicates a lot of time to playing and perfecting her skills and practices with the Hawkeye Tennis Academy (HTA).
"I try to play nearly every day for a couple hours. There are a lot of tournaments that I usually play throughout the year as well. I do some strength and conditioning training also," Gilbert explained.
"
A big part of tennis is mental, and playing has taught me how to battle through adversity and never give up."
— Ella Gilbert
However, tennis is more of a mental sport than a physical one, and players have to get through the mental blocks that come with playing. 
"A big part of tennis is mental, and playing has taught me how to battle through adversity and never give up," said Gilbert.
Gilbert's coach at HTA, Brandon Hornback, also hit on the note of having a strong mentality.
"[Ella] brings a great attitude to practice and is very coachable, which has led to her improvement and success. I think she has the physical and mental game to get to the top if she sticks with it," Hornback said.
Now a freshman, Gilbert had the opportunity to try out for the Liberty girl's tennis team, and by the end of the season, she became the first student to go to State and be named 1st Team All Conference with an 8-3 record.
"I am just happy for Ella that her hard work has paid off for her and that she is receiving this recognition," said James Postman, coach for the girl's tennis team. "Ella has had a major impact on our program by being extremely successful in singles this season."
"It's been really cool to play for Liberty and represent Liberty this year. I've been looking forward to playing high school tennis for a long time, and I was so excited to become a Bolt. I feel really lucky to be a part of such a great team," Gilbert said.
Gilbert's playing also improved during the season with Postman citing the main difference being more aggressive on the court.
"All season long Ella's game has been extremely consistent. However, I would say that the last [third] of the season she has become much more offensive with her play.  She has been able to dictate points and put players on their heels," explained Postman.
Though she lost her first match at State, Gilbert is still looking forward to next season and has a couple goals of her own.
"It's always been a goal of mine to make it to State. It means a lot to me to represent Liberty and to be the first tennis State qualifier. I think that it's really cool that I get to be a part of building a tennis team for our school," Gilbert said. "One of my goals is to have an undefeated season, and eventually I hope to win State. I also think that our team will be able to win more meets and have a winning record. We had a lot of really close meets that we didn't win, but next year I think that we will be able to turn a lot of them around."
"
I am just happy for Ella that her hard work has paid off for her and that she is receiving this recognition."
— Coach Postman
Postman echoed these words, saying, "This year we lost several close matches.  Next year, after gaining the experience from this year, we should be able to close out those close matches and improve our record."
Hornback is also enthusiastic about Gilbert's future in tennis.
"Ella has a very bright future in tennis. With her only being a freshman, she has plenty of time to prove herself as one of the top players in the state," said Hornback.
Throughout her season, Gilbert learned a lot about being a team.
"Tennis is an individual sport, and I have never really been a part of a team before. It was fun getting to know the other girls and becoming a team," Gilbert said. "We're still a new team, and Coach Postman had a lot of new players this year. He did a really good job of bringing us together as a team and helping us figure out how high school tennis worked."
However, not everything was good. Gilbert had to learn how to manage schoolwork with having matches four days a week.
"There were some weeks where we had four meets, and it was a lot of matches and traveling. It was hard adjusting to missing so much school and keeping up with my homework," explained Gilbert.
The weather was another factor the team had to battle as they played.
 "I also had to learn how to play in bad conditions. This year, the weather was not very good. The season starts early in April, and it was really cold, rainy, and windy for many of our meets. It's difficult to play tennis in these conditions. I learned pretty quickly that I would need more than one sweatshirt to make it through the weather!" Gilbert said.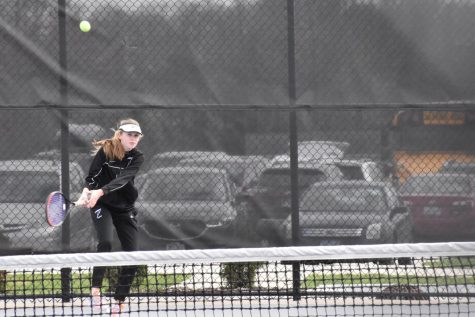 Though, both Gilbert and Postman have a positive outlook on the next few years of the team with five out of the six top players coming back next year, four of them being freshmen.
"Next season, I'm looking forward to having a lot of fun in practice and at meets. Now that everyone on our team is closer, we'll be able to start off stronger and have more fun. At the beginning of the year, we didn't even have a team chant," said Gilbert. "Going into next year, we'll have our Spotify playlist and matching scrunchies ready. That should be worth at least a few winning matches!"
Gilbert is prepared to take on the leadership roles of a team and is excited for years ahead.
"I'm so grateful that I have the opportunity to be a leader on our team, and I want to help create a winning and fun culture for the team for years to come and after I have graduated," said Gilbert. "I'm really excited to continue to compete for Liberty for the next three years. Our team is still really young, and we can only go up from here!"
About the Contributor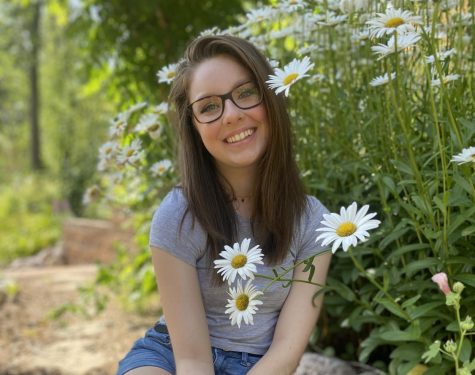 Lauren De Young, Editor in Chief
Lauren De Young, senior, is on the staff for the third year. At Liberty, she is involved in INSHOC, NHS, and journalism. Lauren loves volunteering, recently...