Freshmen Lead
The Varsity Girls' Tennis Squad is largely led by freshmen.
Typically in high school, varsity positions in sports and music are filled by upperclassmen. However, when it comes to this years' girls tennis team, it is the polar opposite. Four out of the six girls on varsity are freshmen.
This could be seen as Liberty having less experience as other teams, but most of the girls have many years of tennis experience outside of Liberty.
"I have been playing tennis for about eight years," said Ella Gilbert, freshman. "I decided to play for Liberty because I've always thought that it would be fun to be a part of a team, and I get to do that with high school tennis."
People decide to play tennis at Liberty for multiple reasons, not just because it is the closest school to their house.
"I have been playing tennis for 9 years," said Oriana Bloom, freshman.  "I decided to play tennis for Liberty because I thought it would be a fun and cool experience. I had the option to play for my private lesson coach at City, but I decided to go to Liberty where I could prove my ability without anyone being biased."
"
I think by the time we are seniors we could really have set records for the school's future tennis teams"
— Oriana Bloom, freshman
Playing on a team that is largely made up of freshmen requires a shift in the thinking about leadership. Oftentimes, underclassmen can look to juniors and seniors for advice and leadership. In this case, the freshmen are having to pave the way on their own. 
"The leadership dynamic [throughout the team] is fairly evenly distributed. Even though it is mostly freshmen, the upperclassmen are very nice, and we all enjoy talking to each other…. Everyone has a sense of leadership from everyone else," said Bloom.
"… Since most of us haven't played school tennis before, the upperclassmen should have to take the leadership positions and help the others out. Also, being a positive influence and making a good impact to carry on throughout the younger players."
For the tennis coach, it was a new experience coaching players with so little high school playing experience.
"[Coaching primarily freshmen] was challenging as well as fun… Players with more experience are more adept at handling pressure situations.  The girls improved throughout the season at handling pressure," said James Postman, coach.
Tennis has only been an available sport at Liberty for two years, not counting last year when their season got canceled. This has given the current players a chance to really create a legacy of their own for the tennis program. 
"I think the group that we have now is extremely kind and fun to be around. I think that the legacy I would like to build is to bring more attention to girls' tennis and tennis in general," said Bloom.
"[I think that] the most important things that we need to build our teamwork and having fun," said Gilbert. "I think that if we can accomplish those two things first, the success will come naturally. We have plans to work hard in the off-season to prepare for next year and build the team."
The girls have done a solid job creating a legacy to build upon in future years. With Ella Gilbert becoming the first tennis player to make it to state; Lucy Lohman, freshmen and Leela Strand, freshmen also became state alternates for doubles per Varsity Bound.
"It means a lot to me to be a State alternate," said Lucy Lohman, freshmen. "… but I hope next year we can make it farther."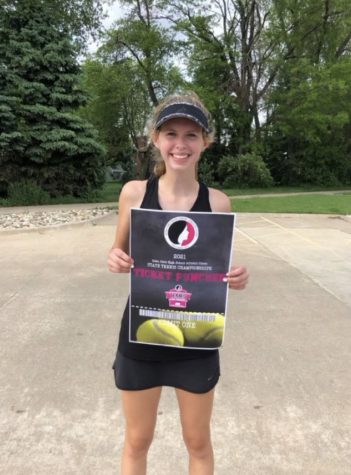 "Reaching State would be very cool and a big milestone in anyone's tennis career. I think that it is so cool that Ella has reached State. It is also very cool that one of our doubles teams made state alternates. I think by the time we are seniors we could really have set records for the school's future tennis teams," said Bloom.
"One of my goals has always been to make it to State," said Gilbert. "It's been really cool to accomplish that, especially being the first at Liberty. We've all been celebrating each other's successes and cheering each other on. We're looking forward to great things to come. Hopefully, we can eventually compete for a State Title!"
"Hopefully having a player qualify for state shows the rest of the team that we can get better as a team as well, " said Postman. "[It was] a great accomplishment for Ella, Leela, and Lucy. They worked hard and reaped the benefits."
The girls had a very successful season this year and showed great signs of potential. They learned a lot from this past season, and are looking forward to the season ahead of them.
"I feel like at the beginning of the season we didn't really know each other very well but towards the end, we all got close," said Hildreth. "…I feel like a big part of it is just communicating to each other and seeing what our other teammates' weaknesses and strengths are."
"Simply this year's worth of experience is going to be a huge asset [to getting better].  We lost 4 matches this year by a score of 4 to 5.  Next year we should be able to turn those matches around.  In addition, we will work on some technique as well as more match play over the summer," said Postman.
About the Contributor
Quincy Lohman, Copy Editor
Quincy Lohman, senior, is a first year staff member. He plays on the Liberty golf team and is a member of NHS. Outside of school, he enjoys traveling,...