Liberty Seniors Leaving Iowa
Liberty seniors considering attending college have been faced with a difficult question: should they attend in-state or out-of-state? Sam Harvey, Ava Warkentin, Noah Klosterman, and Alaina Wilson have all considered leaving the state for college for different reasons.
There are a multitude of factors that students may take into consideration when deciding where to attend college. For Liberty students, a question many of them face is whether to stay in Iowa or move further from home. Ava Warkentin, senior, is one of many who've struggled to make this decision. For her, the answer has always been to look outside of Iowa, especially with her potential degree interest. 
"I've always wanted to go out of state for college because many [of those] colleges offer more opportunities for students than the ones in Iowa do. Plus, I want to leave Iowa, so going out of state for college is a great opportunity to have that chance to leave," explained Warkentin. "I don't want to go to school with ninety-nine percent of my high school. Also, the degree I'm thinking about isn't even offered at the University of Iowa, it's only offered at Iowa State."
"
I've always wanted to go out of state for college because many [of those] colleges offer more opportunities for students than the ones in Iowa do. Plus, I want to leave Iowa, so going out of state for college is a great opportunity to have that chance to leave."
— Ava Warkentin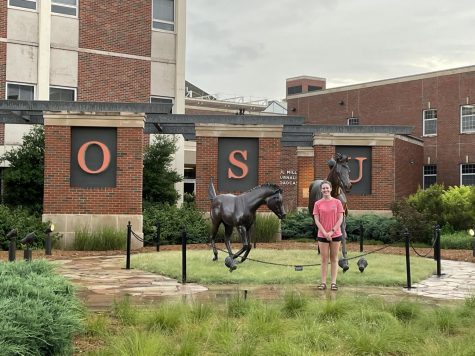 Warkentin plans to major in agricultural business and attend Oklahoma State University next year. She has lived in Iowa her whole life, and is looking forward to living in a new climate during her college years. 
"I'm really excited for the different opportunities that they offer and also getting to meet so many new people," said Warkentin. "It's just a great school, and it's not in Iowa."
She also mentioned the difficulties that come with leaving the state for college. 
"I think a combination of out of state tuition, low scholarship opportunities, and family and friends pressuring you to stay can play a huge role in staying in state for college," said Warkentin. "The biggest thing that has held me back is being away from home and not knowing anyone. Colleges do provide numerous opportunities for students to meet new people but it is still scary just being away from people you know. Plus, being nine hours away from home does make it difficult to come back home to visit outside of long breaks."
Out-of-state tuition is significantly more expensive than in-state tuition. This is due to the fact that families pay taxes to their state of residency to help fund public universities, so out-of-state students pay more to attend those schools. This makes the decision to leave the state more difficult for many students, especially if they don't qualify for scholarships or financial aid. 
Other students have had to make college decisions based on athletics. Sam Harvey, senior, recently committed to Southeastern Louisiana University to play Division I beach volleyball on an athletic scholarship. She has been playing volleyball since seventh grade, and hopes to continue playing even beyond college. 
"It was kinda my life goal to play volleyball in college," said Harvey. "I spent pretty much the whole summer in Florida just so I could get exposure and it was a huge goal for me. I worked very hard for it." 
Harvey spent twenty plus hours a week training for and playing in volleyball tournaments this summer. 
She currently plays both indoor and beach volleyball for Club Iowa Volleyball, commonly referred to as CIA Volleyball. She also played for the Iowa High Performance Volleyball Team, which is a team that represents Iowa at USA tournaments.
"I love everything about the sport. Volleyball is my primary source of happiness," Harvey explained. Her dreams of playing volleyball only really begin with playing in college, as she would love to play professionally some day, or even for the USA olympic volleyball team.
Alaina Wilson, another Liberty senior, is currently in the college selection process, and is deciding whether to study abroad or go to Louisiana State University.
"I love to travel and want to travel more as well as experience other cultures and lifestyles. Also, there are more opportunities for the subject I want to major in out-of-state and abroad," said Wilson. "When looking for colleges, I looked at what had the best programs for what I wanted to study, which is journalism and education, or social work. LSU was the college with the best programs that had all three."
She is looking at multiple abroad colleges that are all located in the United Kingdom. "I'm currently in the application process for some of the colleges abroad. I'm looking at University of Galway, University of Ireland, King's College, and Teesside University. They are all in the UK, so I would not have to work around a language barrier."
Like many other students, something Alaina has taken into consideration is the cost for out-of-state/study abroad tuition. "Out-of-state and abroad tuition is much more expensive than in-state tuition," said Wilson. "I prefer the cost of public college, but if a private college has what I'm looking for I will apply and take out loans/scholarships"
Many Liberty students, however, have yet to decide where they are attending college. Similar to Wilson, Noah Klosterman, senior, is also strongly considering attending school out-of-state. Klosterman has spent his entire life living in Iowa, and he too hopes for a change in climate. 
"My dream college is really just anything other than Iowa," said Klosterman. "I want to experience something new, but I also can't imagine leaving my family." 
Klosterman has looked at many colleges outside of Iowa such as Arizona State University, but is also considering attending the University of Iowa. 
"I kind of want to experience something different. I want to experience something you can't get in Iowa," Klosterman explained. 
The college selection process differs for every student. There are many components of the decision making process such as cost, location, athletics, and degrees offered. Students must examine multiple criteria to determine their best-fit college destination.
About the Contributor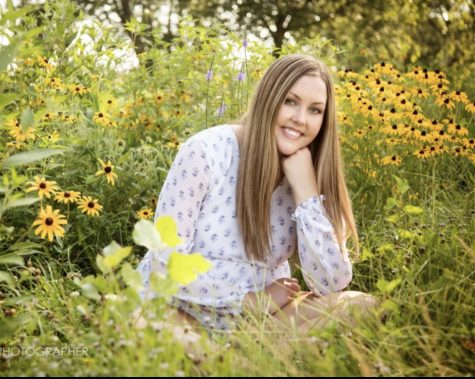 Liz Barnett, Managing Editor
Liz is a senior at Liberty and this is her second year on the newspaper staff. In her free time, Liz enjoys spending time with friends, supporting Liberty...