Reflecting on FIJI
Liberty students and faculty share reactions to assault in an Iowa City Fraternity.
Feeling safe in your environment is important. Everyone should feel safe in their schools. Recently, the FIJI Fraternity at the University of Iowa has received criticism due to claims of sexual assault. A sophomore student who attends the University of Iowa claimed during her freshman year, two of the fraternity members drugged, sexually assaulted her, and then recorded the assault. The student, who would like to remain anonymous, brought her case to the Iowa City Police Department and was told it would be investigated.
Protests and riots swarmed the frat house on Tuesday, August 31. According to The Daily Iowan, hundreds of protesters held signs and chanted that these men need to face disciplinary action from the school. At least one person supposedly got inside the house and several protesters vandalized items as well as graffitied the house. This situation started to gain attention because of a petition that was started to raise awareness and get justice for the victim. The petition now has over 150,000 signatures and the number of signatures keeps growing. The petition claimed Iowa City Police failed to follow through with their investigation and charging the perpetrators. It also accused the college of failing to reprimand these men for their actions.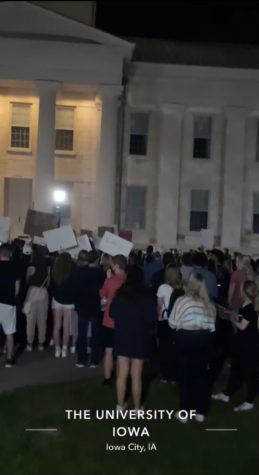 Some of Liberty's students were present at the protests. Noah Klosterman, senior, attended the protest on August 31 and shared what he thought about the situation and the protest.
"Everyone was upset but there was a comfort and a sense of community that made you feel you belonged there. The connection between sexual harassment/assault and 'Greek Life' is something that isn't talked about enough and seems to go unchecked," said Klosterman. Klosterman addresses a key concern for schools in general: student safety and well being.
"
The connection between sexual harassment/assault and 'Greek Life' is something that isn't talked about enough and seems to go unchecked.
— Noah Klosterman
Liberty wants to provide a safe and comforting environment for anyone who may have experienced sexual, physical, or verbal assault. This school year, a new club was created called MVP, which stands for Mentors in Violence Prevention.
One issue MVP focuses on is identifying gender violence and the group has made it a goal to normalize conversations about it. Other issues they focus on is homophobia in schools as well as helping teach bystanders how to speak out when they witness scenarios occurring, such as the event that happened at FIJI.
Liberty's academic support teacher and MVP leader, Kate Richey, shared her thoughts on the situation at FIJI.
"I am consistently disappointed that people don't intervene when they see these things happening. As a woman, obviously, I fear for all women. This seems like a story that is told over, and over, and over. When do we get to close this story and say it's never gonna happen again?" said Richey.
MVP is not only trying to shine light on the victims, but also spread awareness. The group wants to provide a constant and safe outlet for victims. The group's primary focus is to educate students so that our community can become better about not only preventing these situations from happening, but also how to approach handling these situations when they do occur.
If you've ever personally experienced something like this, know that you're not alone. Liberty has resources that you can use whenever you feel comfortable and ready. People like Richey, the guidance professionals, and the Student Family Advocates (SFAs) are trained to assist students in these types of situations. For all other students, if you ever see something, say something, because everyone can help to prevent sexual assault and feel safe in our community.
About the Contributor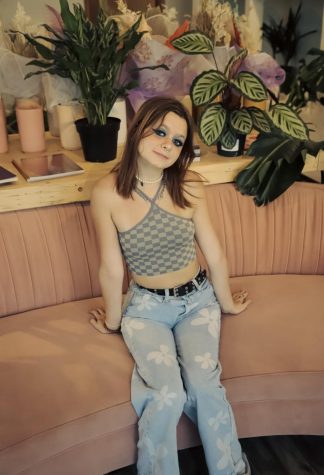 Jordyn Smith, Reporter
Jordyn is a senior at Liberty, this is her second year in Journalism. Outside of school, Jordyn enjoys shopping, exploring new places, and spending time...