The Battery Behind the Game
Bolts athletics thrive with the return of student section energy.
With a lot of ups and downs, limited fans in the crowds, and more importantly, no students in attendance, 2020 was a year to forget for student-athletes. Fast forward to 2021, fans are packed in the stadium, student sections are booming, and team adrenaline is pumping.
Football and volleyball are back in full swing and the student sections are louder than ever. For each game, there is a theme to the student section and there are some crazy outfits that come out of it. Whether it be camo-themed, USA-themed, or have a cause to it, like pink out and its awareness for breast cancer.
Wyatt Williams, junior, is a three-sport athlete for the Bolts. He competes in football, basketball, and track and field. Both football and basketball are big-time student section sports. Williams has started off very well for the bolts football team recovering a football earlier this year and picking up 12.5 tackles. 
Williams, a junior, has had to step up with this year being his first year on the varsity roster. He can tell a great difference from the energy during the games this year compared to last year. Williams had the crowd erupting when he recovered the kickoff against Mt. Pleasant.
"When they are cheering and getting hype they get me hype, I love when I look at the stands and see all my classmates and friends that came to support us. It really boosts the team morale," said Williams.
Although some people get rattled by heckles from student sections, Williams is not one. 
"I've never gotten distracted by our student section. I don't let what they say get into my head I just focus on the game," said Williams.
This is a unique trait to have at the high school level.
Williams and other members of the football team have acknowledged the student section's vibrancy this year. At the North Scott game, there was quite a small student section, but their voices were heard. 
Shelby Kimm, junior, is off to a remarkable start once again this year on the volleyball team. Kimm is second on the team in kills with a very respectable 201 kills. Last year, Kimm had a little taste of what it was like having a student section in attendance at the state volleyball tournament.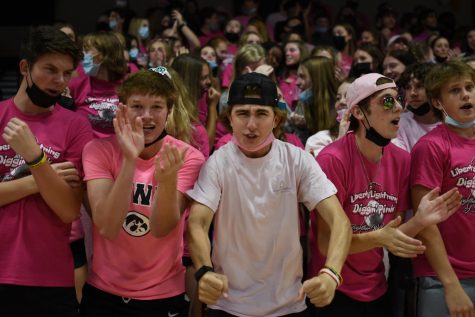 Kimm is loving having the student section back. 
"I think that the student section can give us the motivation to play harder and can have a positive impact on our playing level," said Kimm.
Kimm acknowledges opposing student sections but doesn't let it get to her. 
She said: "Most of the time the student section does not distract me. Even though it can be loud, the team can still stay focused on our game."
Jack Turgasen, senior, plays a very key role in the pitching and hitting game for the Bolts baseball team. He is also one of the biggest leaders of the student section. Turgasen loves being back in the stands for both being with his friends and rattling the opposing team.
 "[It has been] a great time being back in the student section and being with friends. My favorite part about the student section is yelling at the other team," said Turgasen.
Though the football team has had a few losses so far, the energy has been there throughout the thick and thin. The student section is so loud and rowdy that the announcers in the press box could feel the home stands shaking back and forth. The student section travels well, as they made the trip up to North Scott in hopes of shocking the state. Home games are definitely the most energetic, but away student sections can be electric as well. 
The most compliments to the student section actually come from volleyball games. The Bolts volleyball team is off to a scorching start with a bunch of energy behind them. Every time that there is a kill, a celebration is performed which usually gets a lot of laughs and excitement. After each win, there is a ritual they carry on, in which they go to midcourt, and chant "I believe that we just won" with the volleyball team. 
The student section is made up of students in all of the 4 grades at Liberty, and all of their cheers are heard. The combination of everyone's cheers is what makes Liberty's student section one worthy of recognition.
About the Contributors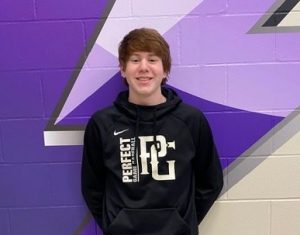 Jack Funke, Reporter
Jack is a senior and this is his third year of staff. He is a catcher and first baseman for the Bolts baseball team. He is also involved in Liberty High...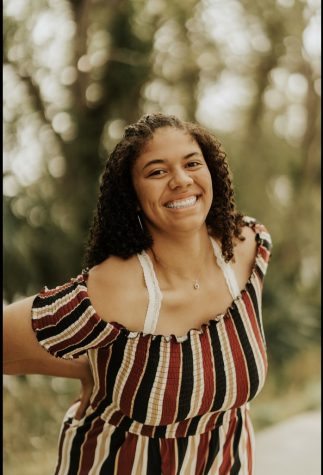 Chante Hardaway, LTV Staff
Chante Hardaway is a senior at Liberty and this is her first year as a part of LTV staff. She runs social media for bolt journalism and is a photographer/videographer....