NCAA Rule Change
The new NCAA Rule Change regards college athletes payment outside of their individual college
Athletes across the NCAA have not been paid or been able to make their own money for years, but the NCAA has finally changed this rule. According to the NCAA, athletes were not able to be paid before because they are still "amateurs" and that providing students with scholarships and other benefits was sufficient payment.
A recent change to this rule has now made it an option for student-athletes to earn money from their name, image, or likeness. Student-athletes are still not getting paid directly from the NCAA or the college of their attendance, but these athletes are able to make their own money through endorsements and advertising. Athletes can brand themselves in order to make money through social media, endorsements, and merchandise. This is still only a temporary policy, but many believe that this rule change will stand with such high support for it.
This is still only temporary because they are still testing the waters to see if this is okay change. In order for this rule to become permanent, there would need to be a law passed as well as high support from the NCAA board.
There is a new program that has been created due to this recent rule change. The program is called Barstool Athletics. This program is a social media account that is run through Barstool Sports that can help athletes get endorsements and make steps in their career by becoming more professional while still being in college. This is one way for student-athletes to use their skills to further their options beyond continuing to play at the professional level.
Ben Houselog, a former Liberty student and current football player at Upper Iowa University, has a career in social media with large followings on YouTube, TikTok, Instagram, Snapchat, Twitter, etc.
Houselog has utilized Barstool Athletics to further his following on social media and to gain endorsements.
"They have helped me grow my pages and showed me a ton of support," said Houselog.
"
It [Barstool Athletics] affected my social media career by opening up new ways for me to make money and market products and give me more experience going forward."
— Ben Houselog
He also said that this NCAA rule change has made more opportunities for him in the social media aspect.
"It [Barstool Athletics] affected my social media career by opening up new ways for me to make money and market products and give me more experience going forward," he said.
Gabbie Schroeder, senior and D1 volleyball commit to Drake University, says that she shows interest in branding herself and making money.
"I would reach out to a bunch of businesses and see how I can partner with them and then make money that way," said Schroeder.
Allowing athletes to make money has always been a controversial topic. Some people believe that this can negatively affect the players' careers, but Schroeder said that this rule change was a positive one for athletes.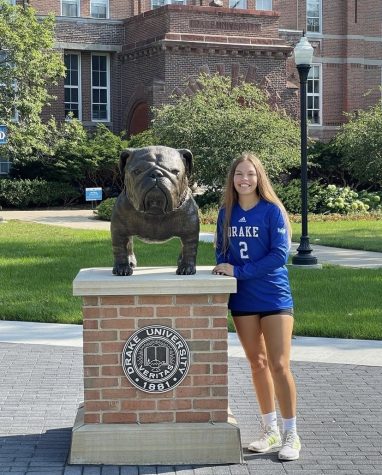 "I honestly don't think it will [affect players negatively], but I think maybe more people buying my merch will be more encouraged to come to the games, and we can get more fans hopefully," said Schroeder.
Houselog shared Schroeder's views.
"The change in NCAA rules hasn't affected my football career at all, I still put academics and athletics before anything out of that area of life," said Houselog.
Nathan Oswald, Science Department, previously played NCAA football. When asked what negatives there could be regarding payment of athletes, he said this,
"[There could be] misplaced motivation in an athlete and not ( being about their) team or winning, but for money and doing things differently because it might benefit them but not the team."
Although it is still a controversial topic, many believe that this is a more positive thing than negative.
"I think allowing athletes to be paid will be a positive thing but I can also see areas of concern recruiting wise, donors to universities can easily abuse this rule to gain recruits," said Houselog.
Schroeder believes that athletes deserve to be paid.
"I think this is a positive thing because I feel like you worked really hard to be an athlete and you get that recognition and those rewards," said Schroeder.
Oswald believes that athletes should have the right to make their own money regardless of being in college.
"If a 19 year old kid can make millions on YouTube, why can't a kid make millions on his basketball jersey? Like Justin Fields who plays for the Bears could have already been making millions and millions of dollars by now. Now he will, but what if he gets injured? Doesn't play? So I think as much of that money would be great for those guys," said Oswald.
Although this rule change that now allows student-athletes to make money by branding themselves is still fresh, there are already big strides taking place. Student-athletes across the country are celebrating this change, and many are hopeful that this temporary rule will be made permanent.
About the Contributor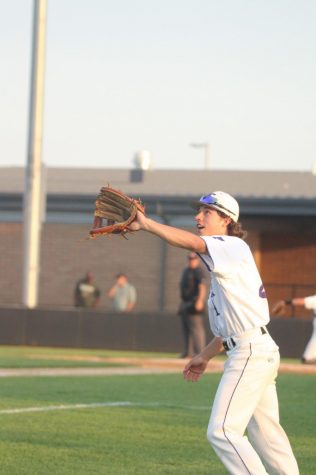 Sam Rozz, Reporter
Sam is a senior at Liberty High School. This is his first year on newspaper. He plays baseball in the summer and enjoys hanging out with his friends.