S.A.D.
S.A.D. or seasonal affective disorder can effect a persons mental health imminently.
Many people are familiar with the term "seasonal depression" or "the winter blues." As the winter months set in, days shorten and weather declines. All of this can have negative effects on an individual's mental health. However, many are unaware that this occurs on a spectrum. Some experience the more extreme form of winter depression- seasonal affective disorder (SAD). Johns Hopkins Medicine defines SAD as a type of depression that happens during certain times of the year.
"I struggle with the effects of seasonal depression. I have been diagnosed with depression and my meds help, but when this time of year comes around I can see it getting worse again," said Taya Zapf, sophomore.
Though they manifest differently in everyone, common symptoms of SAD or other forms of winter induced depression include: increased drowsiness, social withdrawal, anxiety, low energy levels, and more. These symptoms can affect every aspect of one's life.
"[Seasonal depression] can definitely take a toll on my relationships with friends and family because I'm alone a lot more. [When facing SAD] I tend to seclude myself more. I'm not as motivated to do stuff I usually enjoy like hanging out with friends because I just don't have the energy for it. I have to push myself to be with others while also realizing that I need time for myself sometimes," said Daisy Cabrera, sophomore.
Unfortunately, seasonal depression can also affect students' academic performance.
"When my seasonal depression comes around, I get extremely unmotivated which makes keeping up with school difficult… Obviously, at school teachers are more focused on academics than mental health which isn't always helpful when you are dealing with depression." said Rosie Terry, sophomore.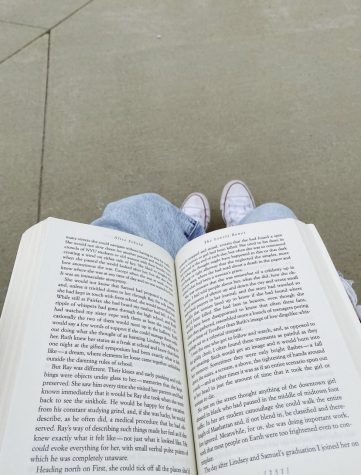 Despite this, many students feel there are not enough resources surrounding mental health at Liberty. Though some students feel there are teachers they could confide in, there aren't solid systems set in place to support students struggling with mental health.
"Though individual staff have been really great [in supporting me through depression], I don't think Liberty as a whole has a very solid support system for students struggling with things like seasonal depression," said Zapf.
Many students wish that mental health was simply discussed more at Liberty.
"Mental health should be something talked about more, especially in school. Teachers should discuss depression with students a few times throughout the school year. This would provide students with a better understanding of depression as a spectrum as well as help students know that other people are going through the same thing. I think it would make students feel better knowing they have adult figures to look up to whenever they need," said Cabrera.
Often, people struggling with the adverse affects winter can have on individuals' mental health, don't reach out for help because of stigmas and inaccurate understandings surrounding mental health.
"A lot of people don't understand depression/mental health as a spectrum. Many people believe you are either depressed or you're not. It's hard for others to understand that some days I feel fine and other days it takes all of my energy to get to school and just be present. I think that combined with stigmas surrounding mental health can discourage [those struggling] from seeking help/support," said Terry.
Despite this, many students are finding ways to combat the "winter blues."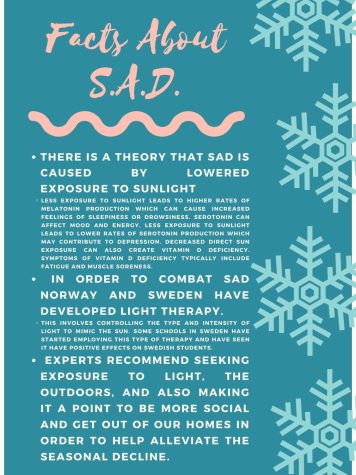 "To combat this feeling I try to spend a lot of time with family and friends to distract myself and surround myself with positive energy," said Zapf.
"When people aren't getting as active and as much sunlight as they are in the summer it's bound to make you feel worse. That's why I think it's really important for people to stay active even if it's just putting your coat on and taking
your dog on a walk," said Cabrera.
As the winter season is approaching, if you or someone you know starts to experience sleep disturbance, appetite changes, start using alcohol or drugs, or have thoughts of harming oneself, please seek medical consultation.
About the Contributors
Leela Strand, Managing Editor
Leela is a senior at Liberty High School. This is her second year on the Live Wire staff. At Liberty, Leela plays tennis and is part of SEA club. Outside...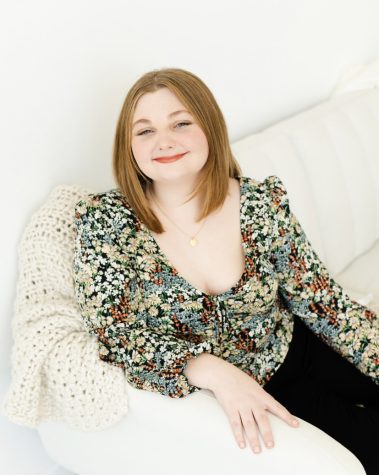 Chloe Oppelt, Editor-in-Chief
Chloe is a senior at Liberty and this is her second year on staff. At Liberty, Chloe is involved in cheerleading and tennis. Outside of school, she enjoys...