The Importance of Martin Luther King Jr. Day
On the third Monday of every January we celebrate MLK day; many people, however, are not aware of the significance of this holiday, and the man it commemorates.
Most students simply think of the third Monday of January as a designated day that we have off from school. What many students fail to recognize is that it's a federal holiday called MLK day; a holiday that was introduced into legislation in 1983 and first observed nationwide in 1986. MLK day is designated to commemorate the legacy of Reverend Dr. Martin Luther King Jr., one of the most famous and influential civil rights leaders/activists. This year, MLK day will be observed on January 17th.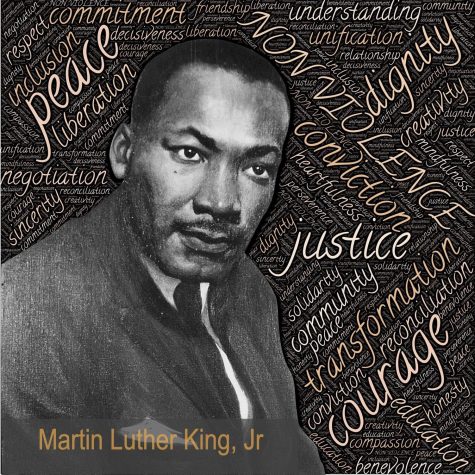 The Reverend Dr. Martin Luther King Jr. was born on January 15th, 1929. He was a baptist minister at the Dexter Avenue King Memorial Baptist Church, which was also the site of his initial activism. He believed in and orchestrated taking a nonviolent approach to protest against and end racial segregation. He grew in popularity after the news broadcast a bus boycott that took place in Montgomery, Alabama in 1955. He was one of the founders of the Southern Christian Leadership Conference in 1957, and was the SCLC president throughout his life. He led the march on Washington in 1963 where he delivered his most well-known speech, 'I Have a Dream'. King was an instrumental part in the passing of the Civil Rights Act of 1964, which outlawed discrimination in public places, facilities, and employment, as well as the Voting Rights Act of 1965, which outlawed discriminatory voting practices. He was awarded the Nobel Peace Prize in 1964. He was assassinated on April 4, 1968. His life left a legacy that encourages all of us to speak up and promote equality in all settings where inequality is present.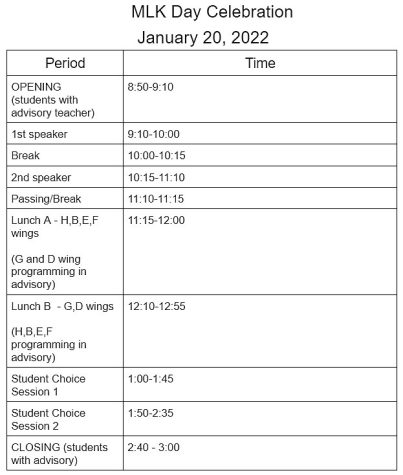 Liberty's MLK celebration will take place on Thursday, January 20th. Thursday morning up until lunch, students will be in their advisory classes with different activities planned. After lunch, students are then able to choose afternoon sessions. Students should have gotten an email from Sched to sign up for afternoon activities. There are also local activities for MLK day at "The Fierce Urgency of Now", and Martin Luther King Jr. Celebration of Human Rights.
The history of our voting system in America dates back to the founding fathers and remains the core of democracy. The electoral college was established in 1788, but it took centuries before discriminatory voting was addressed. Up until 1920, only white men were allowed to vote, until the 19th amendment was passed, allotting women the right to vote. This adaptation, however, was not enough to relinquish the discrimination within the system. The end was reached when former president Lyndon B. Johnson passed the Voting Rights Act of 1965, an act which MLK advocated for. This act enforced the 15th Amendment by explicitly stating that obstacles, such as literacy tests or complicated ballot instructions, are against federal law and are discriminatory and unconstitutional. 
Although tremendous progress has been made related to voting and discrimination, there is still more work to be done. Today the Freedom to Vote Act and The John Lewis Voting Rights Act remind us that the work done by the Reverend Dr. Martin Luther King Jr. is not finished. To help recognize MLK's legacy and recognize all that he and other civil rights leaders have done to ensure the right to vote for all people of color, make sure to exercise your right to vote and get to the polls. 
If you are interested in voting or registering to vote, you can visit VOTE411 for more information, or find local registration options at https://vote.gov/. Remember that representation matters, and is something that MLK fought for and believed that all of us should have a say in how we are governed.
Every citizen aged 18 and older has the liberty and opportunity to participate in federal elections. The process of registering to vote is simple and can make a huge difference when it comes to electoral outcomes. 
To vote in the primary, citizens need to be 18 on or before the election, which is November 8 (born in 2004). Any Iowan who is eligible to vote in the November 2022 general election and who is a registered Democrat or a Republican may participate in the Iowa Democratic and Republican Caucuses. The Democrat and Republican parties hold separate caucuses on February 7th. Attendees can register on Caucus Night to update their registration, change party affiliation, or register for the first time. Non-eligible voters are allowed to observe the caucus but not participate in them. People who will not be 18 years of age by Tuesday, Nov. 8, 2022, but who are at least currently 13 years old may attend their Precinct Caucus as a 'Youth Observer.' Additionally, there are sign ups on the Youth Delegate Sign-Up form as a youth delegate to their County Convention. 
Online voter register is possible using an Iowa driver's license (DL) or identification card (ID) number.
"True peace is not merely the absence of tension; it is the presence of justice."
-Martin Luther King Jr.
About the Contributors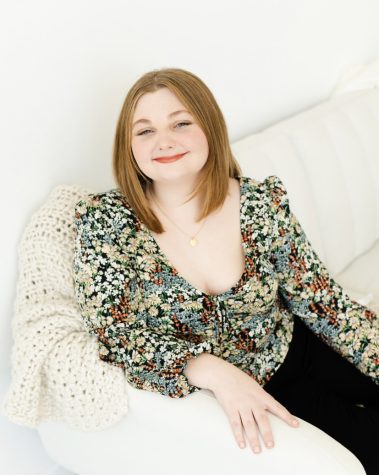 Chloe Oppelt, Editor-in-Chief
Chloe is a senior at Liberty and this is her second year on staff. At Liberty, Chloe is involved in cheerleading and tennis. Outside of school, she enjoys...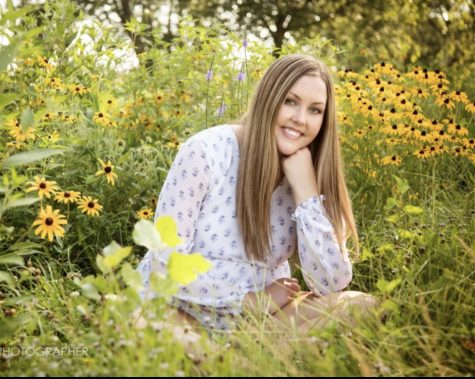 Liz Barnett, Managing Editor
Liz is a senior at Liberty and this is her second year on the newspaper staff. In her free time, Liz enjoys spending time with friends, supporting Liberty...