Backing Up
I started my cheer career after I made the team my freshman year. Since then, a lot has happened.
When people ask me if I enjoy cheerleading, I honestly don't know what to tell them. Should I say yes, no, or kinda? These are all thoughts that go through my head for me on the daily. Cheering has brought me so much joy, but at the same time, a lot of pain and stress. There has never been a perfect medium for me. 
My freshman year was my first season of cheer, and it was the hardest season for me by far. With switching from cross-country in junior high to cheer in high school as well as working with two brand new coaches that have backgrounds in two totally different things, I struggled. My first time doing anything cheerleading-related was at the clinics that were held leading up to the tryouts. When I made the team, I was not a cheerleader; I was the first-ever mascot. The coaches didn't really know what that meant for me and the team because we had never had a mascot before. A couple of months after the tryout, we started practicing as a team during the summer. From the beginning, I felt like I wasn't really part of the team like all the other girls were. I wasn't treated equally, and I was kind of just in the background of everything. It made me feel like a burden to the team and the coaches. 
In August, school had started and that meant that the football season had as well, marking the start of sideline cheer. By the end of the first football game, the student section made me feel like I didn't fit in or belong in the school at all. One thing that has stuck with me since that first game was when the student section would throw things at me. Most of the time, it was spare change they had in their pockets, leftover from the concession stands. Many of the cheerleaders would take notice of all that was happening, and all of us would hear when they would yell hurtful things like 'fag/ faggot', 'go die', or when they would yell my name and do weird stuff to try and upset me. A couple of times they did inappropriate hand gestures, like flip me off, and many other things to try to get a reaction out of me. I never showed how much all that hurt me at the games because I knew that if I showed my emotion, it would give them more power than they deserve. As soon as we left the game, I would look at myself and think about what they were saying, and I would think about if it was true. They made me feel like I was not a human and it made me start to think about quitting all together…
Towards the middle of the football season, we started making our cheer-dance routines for the state competition. During this time the whole team was stressed because we had to come up with the routine on our own. This was a big struggle because the team all had good but conflicting ideas and coming up with the routine took a lot of work, making us have extra practices before and after school. We were pushed really hard, which caused a lot of team members to get injured. The day of state was fun and exciting because we finally got to take a break from the hard work and just enjoy ourselves. We got to the competition around 10:00am but we didn't compete till 5:00 or 6:00 that night. When the team was warming up, we were all really nervous that we would mess up on something. When it was our turn to compete, we were all scared, but we were also relieved because we had put in so much work and we finally got to show it off. Before they announced the awards, they had some college cheer teams perform, and I realized that cheering in college was something I wanted to do. They started announcing the awards and we didn't place at all. We knew that we wouldn't place based on our routine, but it was still upsetting. After state, we had a couple of weeks off from cheering and I decided to take a step back from the team. I had a lot of reasons for my decision such as the student section, my schooling, and how I felt like I didn't fit in on the team. But I knew that I wanted to try out again next year.
My freshman year ended and tryouts were digital because we were all in quarantine from the new at the time COVID-19. The digital tryouts made it hard to show what we can do skill wise. Even with all these obstacles, I still made the team and I knew that this year was going to be hard with everything that was going on in the world. Summer had come and we started having organized practices with our coaches. They were really hard practices. They pushed us, but it all paid off once school started and we were the best we could be with what we were doing. We got to cheer at all the football games again and at the end of the football season, we started practicing for state because everything was online. We competed in 2 different categories and we actually placed 5th and 4th and that was the first time we have placed in the top 5 since the school opened. It was a big deal to the team.  This was also my first year doing basketball cheer and it was a totally different environment than football because we are more face to face with the players than we were during football. Once basketball season ended we had a couple months off and we had to try out for the upcoming seasons team.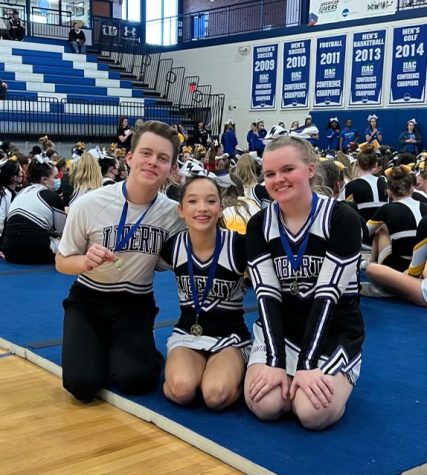 When the team was announced, I had made the team for the third time. I was so happy because we finally got to go back to some sort of normal with regular practices and full-time school. We had practices 3 times a week and we mainly focused on the basics because we had a lot of new members this that didn't have prior cheer experience. We did this for a couple weeks at the beginning of summer and shortly after we had our cheer camp, where we learned this years routine. The competition routine was way harder than it had been in the past and that made it more difficult to execute it well, so we never actually got to perform it. Instead, we stuck with what we already knew so when we performed, we only did stuff that we knew we could execute well. Once football season started, I was really enjoying it because this was the first season that I actually felt like I belonged. The student section was the same, throwing things at us but this year, I ignored it. Towards the end of the football season we started to prepare for the competition. We got to compete in a couple different categories: time out, fight song, CoEd stunt group, and all girls stunt group. I personally competed in 3 of the 4 categories. We competed at two competitions, the Spartan Challenge and at the state competition. At Spartan Challenge, we got first place in fight song and this was the first time we ever got first place at a competition since the school opened. It felt like everything we've ever done had finally payed off. We also got third place in time out and first place in CoEd stunt which I was apart of. We had just learned our routine the week before the competition and getting first place was a huge success for me. The next weekend we competed at state and we competed in time out, fight song, CoEd stunt group, and all girls stunt group. but we submitted a fight song and we had  to submit it about a month prior through video, and they did that so schools that could not compete in person could still participate in some way.  We performed and it was really stressful because we had worked so hard the weeks leading up to the state competition and when it finally was time for the awards. I was so nervous because we had to score over 108 for CoEd to get first place and I was so scared that we would not have gotten that. But we did get first. I was overwhelmed with emotions because we had worked so hard to the point that my body was shutting down.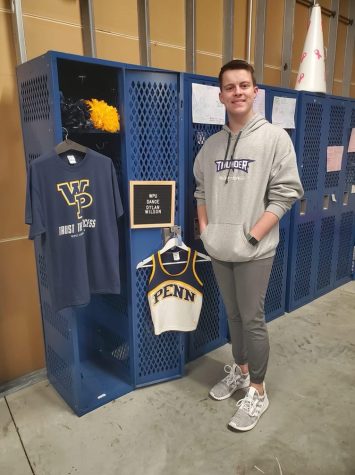 About one month after the state competition, I got my first message from William Penn University, and a couple weeks later one of my coaches stepped down, which was really hard for everyone. I struggled with her leaving because I was a lot closer with her than I was with my other coach, but the past couple of weeks, I have started to get closer to my other coach. My biggest accomplishments this past year were that I made the Iowa All-State cheer team and that I was part of the first three people that brought home a first place state trophy. 
We are now in the middle of basketball season and cheer is coming to an end. Cheer has completely changed my life in good and bad ways. Its hard work and really difficult, but I love it and I always will.