Fear of College
Liberty students may experience "senioritis" or the decreased motivation towards end of highschool. But the fear of college can be more controlling over the minds of seniors.
"What college are you going to?". Eyes of judgment flash towards students when they answer, "I do not know yet". Stress levels start to rise as the applications and essays are due when seniors begin to get serious about their future.
As the school year approaches the halfway point, the reality is beginning to settle in. Many students are deciding to stay in Iowa, but some decide to go north, east, south, and west. There are so many choices, and at times it can be very overwhelming.
Being a freshman in high school is one thing, but a freshman in college is simply one of a kind.  It is the true start of adulthood, starting school on one's own and as an adult. Independence could be a blessing or a curse, it is all about how each person chooses to see it.
Many Liberty seniors have nerves towards choosing or attending college.
Izzy Dykstra, senior, is mostly excited about college, but he still has some worries.
Dykstra said: "I am most nervous about paying for college without going into debt and picking a major."
At times, discussing leaving can be too much for some seniors.
He said: "I do try to avoid the topic [of college] because it's very overwhelming to talk about since there's always so many questions."
Hayley Johnston, senior, has a similar worry towards college.
"[I'm most worried about] trying to figure out what I want to do," she said.
Unlike Dykstra, she is overall more nervous than excited, given the standards set by her family. .
Johnston said: "College is more frightening to me because all three of my sisters are in college and are succeeding well. It's just high expectations to live up to and they all already knew what they wanted to do when they were my age and I'm nowhere near that."

Many stressors surround those anxious thoughts towards having everything all set out for the future, but it is also unrealistic and justifiable to have those thoughts.
Ashlyn Keeny, senior, has mixed feelings, as well. She already has committed to a 4-year college, Iowa State University, but she still has nerves surrounding the adjustment she will have to make.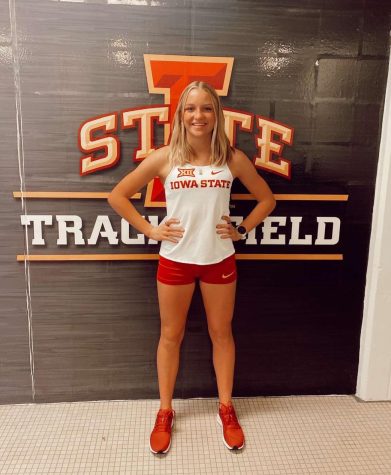 Keeny said: "I am most nervous to leave home and be without my family."
Asking each of them about whether they felt prepared for college brought out similar answers of "I do not know".
Dykstra said: "I'm not really sure if I'm prepared enough for college mentally, but I think educationally I'm prepared. Although I'm not sure if I'm ready to leave highschool behind yet."
After four years of being in school with the same people, teachers, halls, etc, leaving may be struggling for some but exciting for others. In the end, highschool has tried to prepare students for their futures; college will just be that step forward.
Johnston said: "Honestly, I don't think I am 100 percent [ready], but at some point, it will kick in. I'm getting older and about to go to college, so I need to be ready. I am starting to get to that point, but not yet because we still have five months left until graduation"
Students experience a challenge of acceptance, and if college is the path they are taking, it will be inevitable.
Keeny said: I am not sure. I definitely think I am prepared from an academic standpoint but as for responsibility, I think I am but I know it is a big adjustment for everyone".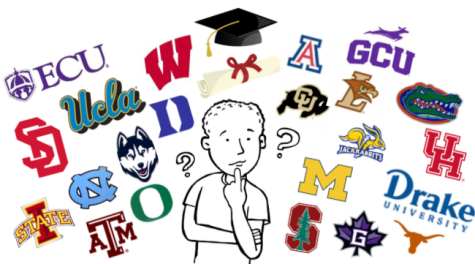 Clearly, one of the biggest challenges with leaving high school is the mental change surrounding responsibility. It is one to be learned, after making mistakes and testing the waters.
Although college is not just about nerves, it also brings excitement, new experiences, new people, new perspectives, etc. There is much to look forward to.
Dykstra said: "I am most excited about meeting new people and being away from home"
College gives the first glimpse of the real world and allows students to learn much about themselves. Each university offers new clubs, teams, classes, that are also appealing to seniors.
Keeney said:" I am most excited to compete in track and cross country, live in a new place, and to study kinesiology".
College is full of both fun and scary opportunities. Even with the fears, it will be a time to enjoy but also learn new things. It is important to remember that it is okay to have both feelings. It will be a time to never forget.
About the Contributor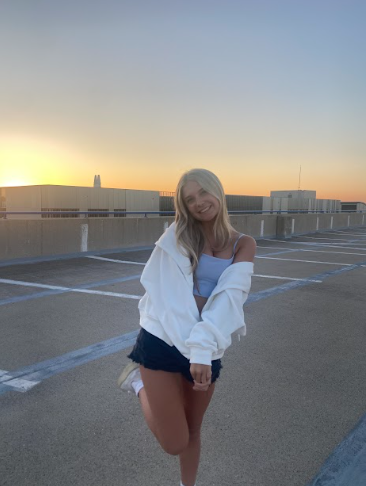 Jocelyn Klein, Reporter
Jocelyn is a senior at Liberty and this is her third year on the newspaper staff. She participates in numerous sports that she would not like to name....