Rosie's Reviews: The Best Chocolate Chip Cookies
On this edition of Rosie's Reviews we investigate how to make the best chocolate chip cookie.
Chocolate Chip Cookies… We know them. We love them. They're reliable, scrumptious, and delicious. But with that there comes a few characteristics that people disagree on. Chewy or crunchy? Milk or dark? Big or small? These are a few of the questions that people ask each other when deciding on the best chocolate chip cookie. Personally, I love the crunchy on the outside, chewy on the inside with semi-sweet chocolate- which is what I'm going to teach you how to make today. But first, let me explain my reasoning. The crunch on the outside lets you know it's fresh and ready to eat. But the chewiness in the middle melts on your tongue. It reminds you that there is more to life than taking the crunchy road- don't worry about laying back and going with the flow once in a while. 
Note: This recipe is loosely based on recipes found online. (With Rosie tweaks.)
Rosie's Chocolate Chip Cookies
Ingredients:
2 ¼ cups all purpose flour
1  teaspoon baking soda
1 teaspoon salt
8 tablespoons vegetable shortening
8 tablespoons butter
¾ cup packed brown sugar
¾ cup white sugar
2 eggs
1 ½  teaspoons vanilla
1 ½ cups chocolate chips
½ cup chopped nuts
Step 1: Preheat oven to 375 degrees
Step 2: Mix together flour, baking soda, and salt in a small bowl
Step 3: In a large mixing bowl, beat the butter, shortening, and sugars together until light and fluffy
Step 4: Beat in egg and vanilla, making sure each is thoroughly combined. DO NOT OVERBEAT
Step 5: Pour ½ of the flour mixture into the large bowl and mix until combined. Then add other half and repeat.
Step 6: Add chocolate chips and nuts (If you wish)
Step 7: Spoon dough onto baking sheet and bake for 8-12 minutes
Step 8: Cool and serve with milk
About the Contributor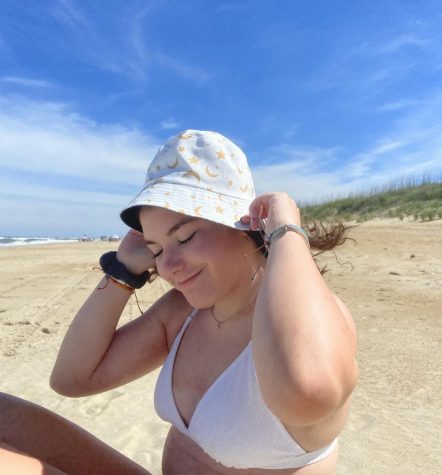 Rosie Terry, Social Media Chair
Rosie is a sophomore at Liberty and this is her first year on staff. Outside of school, Rosie enjoys reading, baking, and hanging out with her friends.