Liberty Theater: Xanadu
Liberty Lighting Theater has revealed their 2022 spring musical will be 'Xanadu.'
From Legally Blonde to Charlie Brown, the Liberty Lightning Theater has captivated audiences since the program began in 2017. This year, Liberty Lightning Theater is planning on performing the musical, 'Xanadu', in the upcoming spring. 
'Xanadu' follows a struggling artist named Sonny Malone who joins Greek muses to build a roller skating rink. 
'Xanadu' the movie was described by the Guardian as 'a mesmerizing messy musical failure'.  However, 'Xanadu' the musical, which appeared on Broadway in 2008, is a parody of the movie. 
This musical brings a different element to the theater program's productions. Along with the upbeat songs and dances, 'Xanadu' brings roller skating to the stage. 
According to Liberty's theater director, Olivia Symmonds, science, 'Xanadu' features a lot of different elements that showcase a variety of student talent. 
"'Xanadu' has a wide variety of skills required to put it on… that's why we chose it, we wanted to seek out a diversity of talent," said Symmonds. 
Nalani Huggar, Sophomore, is playing a part in the Greek Chorus, this is her first year not only with Liberty Theater but this is also her first ever musical. 
"The theater community [here at Liberty] is very welcoming and supportive, I was always hesitant to join theater because I'm kinda shy, but so far I've been having a lot of fun." 
Huggar also shared her thoughts on the musical itself. 
"None of us are big fans of the movie, but everyone can admire the music and the classic 80s feel to it," she said.  
Deuce Martin, senior, has been with Liberty Theater since his freshman year, and sadly, this is his last year with the Theater program. 
"[It's] going to be fun to do a show with my friends again, and it's the last year I'll be with Liberty Lightning Theater," he said.
"
[It's] going to be fun to do a show with my friends again, and it's the last year I'll be with Liberty Lightning Theater."
— Deuce Martin
Martin plays one of the lead roles in the musical as Sonny Malone. 
"It [the musical] is a fresh take on the movie. It's taken this weird, nonsensical movie and flipped it on its head. This one [play] is definitely rock and it should be funnier because it has a lot of fourth wall breaks," he said. 
A fourth wall break is a comedic trope where the fictional character acknowledges that the audience is there. This is a well known trope in the entertainment world but has never really been done by Liberty's theater program.
Not only do the actors work extremely hard to put on this show, but the people behind the scenes also help put it all together. Alex Hobbie Schott, technical director and English teacher, explained how many people it takes to make this show happen.
"Before the show, everyone does lots of stuff, [such as] painting and building," Schott explained. "During the show, there are other jobs. There are people who run the lights, some people run the sound, some people make the curtain go up and down. Although it can be hard work, it's all rewarding in the end. [When] you get an idea of what you want a prop to look like and then you build it and make it look that way… it's really rewarding to see your work [on stage]."
This year, there has been a surge of freshmen or rather freshwomen joining the tech crew. This increase in participants has been beneficial for the theater program as a whole. 
Schott explains that people are attracted to this type of work because it gives an escape from the traditional school environment. 
"Unlike so much of what you do in school. It's all hands on, we're always doing stuff, it's creative, it's inventive."
This musical will get to use a 46 foot wide and 20-foot tall backdrop purchased back in 2020 from the Liberty Fund for Shrek the musical, which was canceled due to COVID-19. This backdrop never actually got to be used until now and it is being put to good use. Schott plans to make the backdrop mountain-like, and fortunately, Liberty Theater has a collection of different paints and supplies that can make ideas like this possible. 
'Xanadu' is premiering at Liberty High School from March 31st-April 2nd. You can receive updates on where and when to buy tickets on the official theater program's Instagram, @lltheater. 
Personally, I am really excited to see this show. Even if you are not interested in musical theater, I think it has something different to offer for everyone.
About the Contributors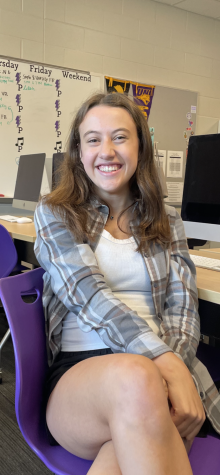 Megan Quinn, Managing Editor
Megan is a junior at Liberty. This is her second year on staff. She enjoys acting, hanging out with friends, and watching 60 Minutes.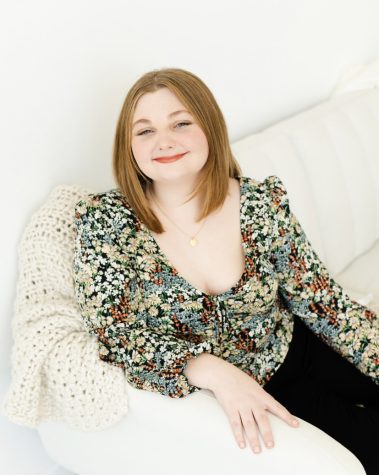 Chloe Oppelt, Editor-in-Chief
Chloe is a senior at Liberty and this is her second year on staff. At Liberty, Chloe is involved in cheerleading and tennis. Outside of school, she enjoys...