The Nationally Ranked Liberty Dance Team
The Liberty Dance Team recently competed at UDA nationals in Orlando, Florida, and advanced to finals. They brought home sixth and thirteenth place rankings in the nation.
The Liberty JV and Varsity Dance Team recently traveled to Orlando, Florida to compete at the ESPN Wide World of Sports Complex in the UDA Nationals. The team was accompanied by their co-head coaches, Rylee Villhaur and Katie Melloy, along with JV coaches Natalie Cargin and Megan Colony. Both teams advanced to semi finals and then finals, where they placed sixth in JV pom and thirteenth in small varsity jazz in the nation. 
Anybody familiar with the Liberty Dance Team knows how dedicated they are to perfecting their craft. They spend hours drilling their routines each week, and are dedicated to giving each performance their all. Towards the end of their season, the girls started working overtime to prepare for nationals. 
"For the last two weeks leading up to nationals we practiced everyday. Each day varied but I'd say we practiced around 20-25 hours a week," said Sarah Smith, junior, who has been a member of the Liberty Dance Team since her freshman year at Liberty. 
Smith noted how this year has been a year of growth, and aiming high to achieve their goals. 
"This year was a year with lots of growth and I think that was a huge accomplishment in itself, but also getting to finals after the year we've had would also be one of our greatest accomplishments this year," she said.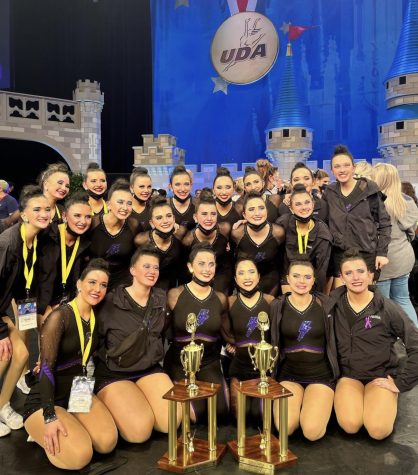 Smith has enjoyed her past three years as a member of the dance team, and has enjoyed the close friendships she developed with her teammates.
"Being a member on the dance team is really fun. It pushes you to be your best and you learn a lot along the way," said Smith. "My favorite part about being on the dance team is the people and the friends you make while being on the team. You become so close with these people and it becomes like a family."
Smith described her experience as a member of the dance team as challenging, but fulfilling.
"My experience on dance team has been good. It's a very challenging and athletic thing and it's not always easy but I've learned a lot not only as a dancer but as a person," she said.
Vanessa Hegland, junior, has also been a member of the Liberty Dance Team since her freshman year.
"The season we just ended with was a rebuild year, meaning we had to start from scratch with a new team. We were able to accomplish our goal this year and then some. Both our Varsity team and Junior Varsity team were able to place top 15 with both of our Pom routines, while still staying close as a team and working together," said Hegland.
Hegland, like Smith, is grateful for the lasting friendships she has been able to make as a member of the dance team, and all of their shared memories. 
"My favorite part of the dance team is working with my best friends to reach a common goal," commented Hegland. 
"
As a team we create so many memories, but this year my favorite memory was the moment both teams made it to finals at Nationals. At this point we made our goal and last performance was just time to show off how hard we had been working throughout the year.
— Vanessa Hegland
Hegland talked about the many challenges that the dance team has overcome, and how they have brought the team closer together.
"Dance team always has some really tough times like every other sport, but every year we all come back. At the end of the year you have this amazing feeling looking back and knowing that you just did that is a huge reward in itself," she explained. "My favorite part of dance team is that it teaches you that what you think is your best is actually just the start of what you can do."
Liberty Dance Team tryouts for the 2022-2023 season will be held Saturday, April 2nd in the auxiliary gym from 8-11 a.m. Prior to tryouts, the dance team will hold a pre tryout clinic on Thursday, March 24th in the auxiliary gym from 3:30-5:30 p.m. for 8-11th graders, and tryout clinics on Monday, March 28th from 4:15-6:45 p.m. and Thursday, March 31st, from 3:15-5:45 p.m. There will also be a mandatory student/parent meeting for anyone who wants to try out on Monday March 21st from 5:15-6:15 p.m. in the classroom adjacent to the dance studio. Additionally, students who are currently enrolled at North Central Junior High and are planning to try out for the dance team have the opportunity to learn more about the dance program on Wednesday, March 23rd from 8-8:30 in the cafeteria. If you have any questions about tryouts, you can contact Coach Katie Melloy at [email protected].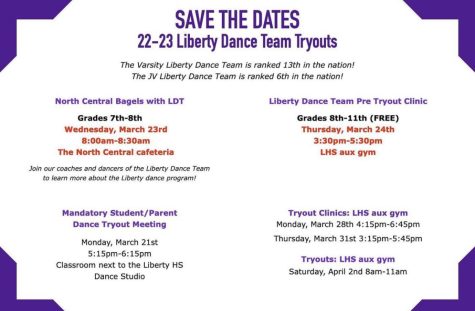 Smith shared some advice for any newcomers hoping to try out for the dance team in the coming days.
"My advice for people joining the dance team is set your goals and go after them, and also to take wherever you start and use it as an opportunity to get better," said Smith.
Hegland added that anyone who is willing to work hard to achieve their goals, and has a good work ethic will thrive on the dance team. 
"I think anyone would do well on the dance team, if someone is willing to work for their goals and not give up on themselves quickly they would be a great member on the team! Anyone who has a passion for dance should try out for the dance team. Dance team is a new way to look at dance," commented Hegland.
Congratulations again to the 2021-2022 Liberty JV and Varsity Dance Team on their tremendous success at UDA Nationals, and good luck to all those trying out for the 2022-2023 school year.
About the Contributors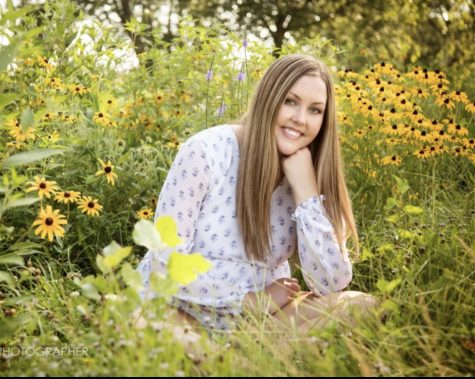 Liz Barnett, Managing Editor
Liz is a senior at Liberty and this is her second year on the newspaper staff. In her free time, Liz enjoys spending time with friends, supporting Liberty...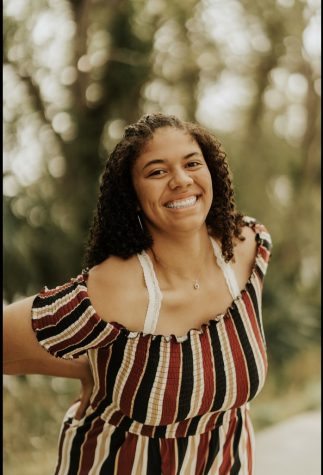 Chante Hardaway, Photographer
Chante Hardaway is a senior at Liberty and this is her second year as a part of journalism program. She runs social media for bolt journalism and is a...