She Kills Monsters
Liberty theater department presents their new show, She Kills Monsters.
Fall is upon us, and with it comes theater season. The Liberty drama department is kicking off the year with their newest production, "She Kills Monsters." The show follows our protagonist, Agnes Evans, navigating the recent death of her younger sister Tilly. Agnes, finds her sister's old notebook while packing up Tilly's things. Through it she soon finds herself caught up in an action packed adventure with monsters, mayhem, and magic.
"Agnes finds a Dungeons and Dragons game that her sister wrote, and she spends the play playing the game as a way to get to know her sister and process her grief," Mrs. Symmonds, Liberty theater director, on what the show is about.
"She Kills Monsters" has big shoes to fill after an incredibly successful theater season in 2021-2022. Last spring's show, "Xanadu," was a hit inside and out of the theater department, but "She Kills Monsters" has plenty to offer, including a unique take on traversing the rough waters of grief. The play explores discovery of ones self and others, sexuality, and most importantly, loss. While the show presents itself as a Dungeons and Dragons themed adventure, it represents much more than that.
"It has silly monsters and swordfighting, but at its core it's a story about a girl whose sister died, and she now has to deal with that," says Symmonds.
"She Kills Monsters" also sets itself apart from other plays by taking risks. It addresses topics such as sexuality and the LGBTQ+ experience among teenagers. With the subject being so relevant today, Liberty theater finds a lot of importance in presenting a story that all kinds of people can connect with.
Clara Hibbard, junior, plays Lilith in the play and says this on its themes, "There's a lot more LGBTQ+ undertones. A lot of schools will avoid doing shows like that, so I think it's nice that Liberty acknowledges that and puts it on stage."
While the play speaks on deep internal issues, it's able to mix in light hearted adventure in the form of fighting. The main character takes on a journey against all sorts of demons, fairies, and monsters. This year the theater department brought in a fight choreographer to teach actors how to "fight" on stage.
"The show gives actors the chance to learn some new skills like stage combat," Symmonds explains one of the reasons she chose this play.
Theater is so much more than what the audience sees. Shows take months of preparation, and "She Kills Monsters" is no exception. The play has been in the works for months and as opening day gets closer, rehearsals will extend to around three hours every day. Luckily, the Liberty theater community is filled with hard working individuals dedicated to helping each other grow.
Clara comments on the theater community, "Everybody is really supportive… Everyone tries to be there for each other and help you further yourself as an actor or crewmate."
Off stage a crew of 30 to 50 people are constantly working on all sorts of technical systems to ensure the play is the best it can be. While the actors are rehearsing for weeks on end, Liberty students work hard to make sure the stage looks just right. Alex (Hoobie) Schott, technical director, and his team work diligently to create a whole new world inside the auditorium. This includes building and painting a new set for each show. Not only that, there are also people in charge of props, lighting, music, costumes… Anything and everything that you see on stage has been meticulously worked on to be just right.
"Tech week is when everything comes together… There's lots of stage combat so I don't know how it's gonna go, but everyone has been working really hard on making it come to life," Megan Quinn, junior, explains about the process of preparing for the show.
Students and Liberty staff can come see the play as soon as October 27, tickets will go on sale for $5. They will perform for three nights so make sure to buy your tickets soon.
About the Contributor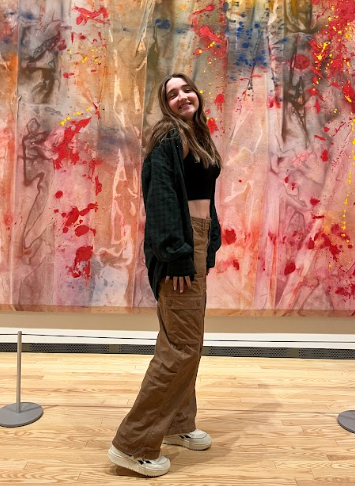 Piper Kearney, Copy Editor
Piper is a senior at Liberty and this is her second year on staff as Copy Editor! She plays softball and participates in Liberty's art club. When she's...