The Next Generation of Readers
Today's young readers are distinctly different from previous generations.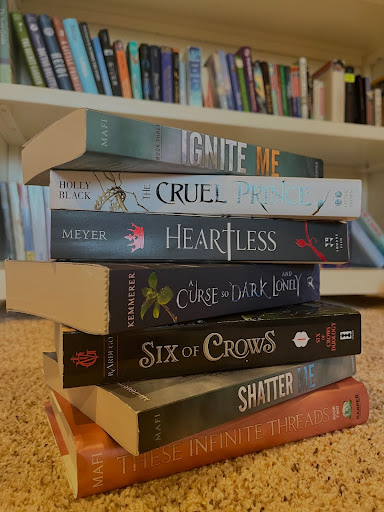 Many believe the invention of the internet has slowly decreased the number of readers among youth over time. As technology has advanced, it has provided more easy entertainment and diminished the appeal of reading novels. However, it is not that simple. Technology has also provided venues for reading communities. 
In 2020 a large, impactful community began to develop on the popular social media platform, TikTok. This trend has since been dubbed "BookTok" and has been  influential on young readers and stereotypes surrounding reading. 
"I feel more confident reading in public [because of bookTok]. BookTok popularized reading books for entertainment, and relaxation. Plus, it's very picturesque," says Ruth Luyeye, 11. 
Many students believe BookTok has made reading "cool," allowing them to feel comfortable sharing their love of reading. 
Ridley Hazeltine, 11, says, "I think when I hit middle school I stopped [reading] because I was worried about my social status and thought it'd make me weird and a nerd. Then, during COVID… my new reading obsession [began]." 
Hazeltine believes the internet only worsened the stigma surrounding reading for enjoyment, until the emergence of BookTok. 
Before BookTok, BookTube, a niche of Youtube focused on reading, was the online center of young readers. Though it has also been impactful, TikTok has allowed it to reach an even greater audience and get a diversity of people involved in the community. 
According to the World Economic Forum, in 2021 Annual print book sales in the US rose by 9%, reaching 825.7 million. This was the greatest increase since the research company began tracking in 2004. 
Though there were likely many contributing factors, NPD BookScan Industry Analyst Kristen McLean, says, "BookTok has 'definitely been a factor' in surging sales."
However, often the books that are popular on BookTok are not "classics." In the past, the books held in highest regard by readers have been those considered "classics" or books deemed an especially notable contribution to literature in some way. These books are often older and contemporary. When older generations think of avid readers, they typically think they are reading these kinds of books. However, for many reasons, including the popularity of BookTube and BookTok, the genres and types of books available have greatly diversified. Currently, the books that BookTok is leading readers to are often fantasy or simpler contemporary romance books. 
"Most of my favorite books are fast paced and fantastical," reflects Lilly Harris, 11. 
Though BookTok has brought more readers into the community, they are not reading what many parents and teachers consider to be standard classics for youth. The readers of the next generation are often reading purely for enjoyment, not necessarily to fill a thirst for knowledge. 
"I am thrilled to see my children reading more. However, I wonder if the books they chose are the best use of their time… it seems to me these are not necessarily intellectual books but rather thrilling stories," notes an anonymous parent. 
This sentiment is common among parents. However, the benefits to reading fiction, fantasy, and dystopia are numerous. Namely, this type of reading is a great way to increase creativity, imagination, and diversity of thought. As creativity becomes increasingly important within the job field of a technology-driven world, these skills become incredibly necessary. 
Today's young readers are distinctly different from those of previous generations. They are connected in a way that was never before possible, building an incredible community and drawing in new readers all the time. The books they are reading are more diverse and fantastical. The next generation of readers will be able to take these advantages into their adult lives.
About the Contributor
Leela Strand, Managing Editor
Leela is a senior at Liberty High School. This is her second year on the Live Wire staff. At Liberty, Leela plays tennis and is part of SEA club. Outside...