Liberty High School Presents: "Bye Bye Birdie"
A world-famous musician who gets drafted into the war, a struggling songwriter who pays more attention to his mother than his girlfriend, and the girlfriend who has been waiting for a proposal for eight long years, Liberty High School presents "Bye Bye Birdie"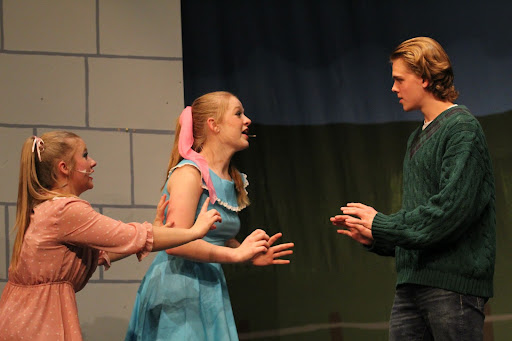 Bye Bye Birdie closed its show on Sunday after three runs, with extremely positive reviews about the production.
The show is loosely based on Elvis Presley's draft into the war in 1957, with many historical references to the 1950s. Even though this story is set over 70 years ago, the plotline still appeals to audiences today. 
Lilly Vogts, 10, played Rose, a strong-willed young woman, who has waited eight years for a proposal from her boyfriend, Albert, played by Brody Schoon, 12. Albert is a manager of a recording studio and has promised Rose for years that he would go back to school to become an English teacher.
Conrad Birdie, played by Owen Abel, 12, is a world-famous rockstar who is managed by Albert. Much to the disappointment of his fans, Conrad gets drafted into the war, and will be gone for two years. Together, Rose and Albert decide to let America say goodbye to Conrad by giving one lucky small-town girl the chance to kiss Conrad Birdie. 
Kim Macafee, played by Savannah Page, 9, is the president of the Conrad Birdie fan club. She is ecstatic when she finds out that she gets to kiss her idol. There's only one tiny problem…she has a boyfriend, and her boyfriend Hugo, played by Aiden Decker, 11, is very jealous of Conrad kissing Kim. This musical is a fast-paced rom-com with some great music, as well as acting.
A show is nothing without the skillful individuals that work behind the scenes. Liberty has a large technical theater program with over 35 people working to successfully put on this musical. 
Eden Scherrer, 10, is the stage manager for the tech theater program. They recount the lengthy process that is working on a show. 
"It is a long process. It starts after the fall show. Dr. Schott and I will meet together to start coming up with ideas for the set after reading the script. Then we would talk about props with our props manager, as well as costumes with our costume manager. After we get everything mostly settled, we get to work. After everything is finished, we load into the auditorium. This week is called tech week, during this week, we will design and program lights, do touch up, and practice the show with transitions and scene changes. Then before you know it, it's opening night," said Scherrer. 
Scherrer also commented on the limited amount of time allotted to produce an entire musical. 
"We [had] been working on this show for about four months now, and while that may seem like a long time, it's a grueling process that could always use more time."
Even with the stress and anxiety that putting on a show brings about, the crew is able to still make it an enjoyable experience for everyone involved. Neala Gillespie, 9, assistant stage manager, commented on how enjoyable of an experience this show has been for her. 
"My favorite part of this whole thing was probably just getting to have fun and hang out with everyone," Gillespie said. 
Gillespie, a freshman this year, felt like she found a place where she belonged, and could put her talents to good use. 
Putting on a show is hard work, and the technical theater crew makes it look easy. While the backstage work is vital to putting on a show, the actors were the people who brought the characters in "Bye Bye Birdie" to life on stage.
About the Contributor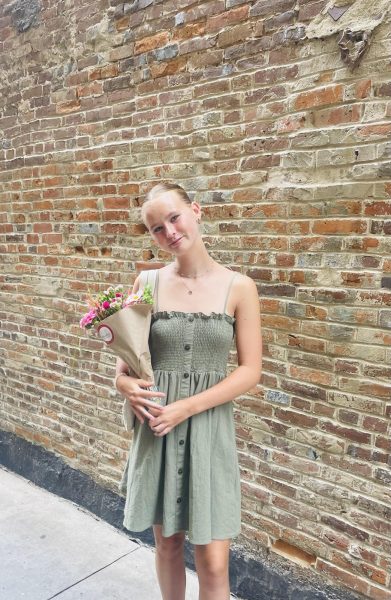 Madelyn Johnson, Social Media Manager
Madelyn is a Junior at Liberty and is a Social Media Manager for The Live Wire. This is her 3rd year in journalism, 2nd year on staff. She runs cross country...