Iowa COVID-19 Update and Its Impact at Liberty and our Community
With the recent skyrocket in cases, many leaders in Iowa have had to make some difficult decisions regarding the virus and keeping the public safe.
Dating back to the end of August, Governor Reynolds closed down bars in six Iowa counties including Black Hawk, Dallas, Johnson, Linn, Polk, and Story. The increase in cases were traced back to the bars with the college students returning back to classes. Since the closing of the bars, cases have decreased significantly. Bars aren't the only thing being affected by the virus, though.
School decisions across the state vary heavily. Some schools have qualified for the ability to go all online for two weeks at a time. In order to do so, the positivity rate in the county has to be at or above a 15% infection rate over 14 days according to the Des Moines Register. The school's proposal is sent to Governor Reynolds to sign off the decision or decline it.
Back in March, some people were happy that we weren't going to school.
Boyd Skelly, junior, stated, "I don't like going to school, so I was very excited when I heard the news that we weren't going back." 
Though, over time, his opinion changed.
"Over the summer, I started missing some of the people I don't see outside of school, so I was very excited when I heard we were going back to the hybrid option," Skelley said.
School activities such as sports and clubs were suspended for the time period that the district is all online. They are allowed to return to regular activities once they go back to in person classes. At school, students are required to wear a mask or face covering and be socially distant throughout the classroom.
"
If you are worried about COVID, then you just don't play, but I understand that they just want to keep us safe"
— Olivia Davenport
Athletes, such as junior Olivia Davenport, were not happy with the suspension of sports.
"I was upset because I feel like sports were optional. If you are worried about COVID, then you just don't play, but I understand that they just want to keep us safe," Davenport stated.
Teachers are required to record the seating arrangement in order to keep track of who needs to quarantine themselves if someone does come down with the virus. If a student gets the virus, they must quarantine for 14 days before returning to school. Drinking fountains are turned off at the schools except for the water bottle refill stations, reducing the amount of germs on the fountain.
Many teachers have faced or are facing the struggles of online learning. With new students in their classes, it is hard to become familiar with them and develop good relationships with them. Some students actually like online schooling such as Liberty junior Sydney Woods.
"I actually liked online school because it forced me to be productive at home," Woods said.
No one really knows what the future has to hold, so we have to take it one day at a time. The best way you can help is to social distance, wear your mask, and sanitize regularly. If you have any symptoms at all, please stay home.
About the Writer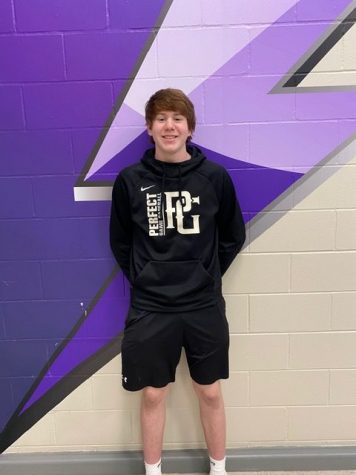 Jack Funke, Reporter
Jack Funke, junior, is a second year staff member. He plays on the Liberty baseball team and plays in the Average Basketball League. He is also in Liberty...