Inside the Freshmen's Mind
The jump from middle school to high school is usually tough. Now add a global pandemic.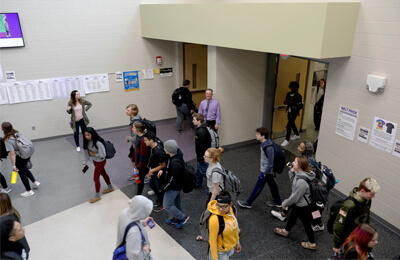 For the majority of students, the transition from middle school to high school is tough. But the year 2020 has added a significant amount of stress to incoming freshmen. Specifically, a global pandemic. The class of 2024 was in for an interesting start to the high school experience, to say the least. 

One of these freshmen, Owen Skelley, talks about his high school experience. 

"The school is a lot bigger and harder to navigate. It's a lot harder to make connections with teachers in high school because they have less time in between classes and more students to deal with." Skelley states. 

Another freshman, Mischa Reiners, talks about her original thoughts at the beginning of her high school career.

"I was expecting the teachers to be a lot more strict on the deadlines of turning in schoolwork," Reiners says, "I was not expecting all of my classes to be so hard to find." 

Skelley adds, "I wasn't expecting [high school] to be so boring like it has been the first couple weeks. So far, the school has been insanely boring in most of the classes I'm enrolled in."

The beginning of school is normally slow and tedious. But with classes separated, teachers are teaching even slower to make sure that no student is left behind. To start the year, all students had to attend online classes and navigate the teacher pages on Canvas. Some students prefer online while some students prefer in-person classes. 

Skelley explains, "

"

[Online school] was hard for me because I find it easier to attend school in-person and have a teacher in the presence of my learning. At home, there are a lot of distractions that take away my attention from my schoolwork."

— Owen Skelley

" 

"It was hard because some teachers didn't know how to work canvas at first, but by the third week it got easier to navigate the school work we had to do," Reiners says.

Stereotypes are believed to play a big role in the high school social classes, but according to Skelley and Reiners, there are none of the stereotypical labelings that they assumed would be present.

"[I believed] that the Seniors and Juniors and even the sophomores would bully the incoming freshmen. There has been any of that that I've seen." Reiners explains. 

Skelley added, "I assumed that in high school everyone would be separated into different social groups. Like jocks, nerds, troublemakers, clowns, and the popular kids." 

Advice for any subject or matter can go a long way in life. Especially in high school. 

Owen Skelley's brother, Boyd, is a junior at Liberty. According to Owen, "[Boyd told me to] stay on good terms with all my teachers and to not make anyone mad in the hallway." 

Reiners does not have any siblings at Liberty so her older friends were the ones to give her advice. "[I was advised to] manage my time with my schoolwork and all the other activities in my life." 

With COVID-19, the high school careers of freshmen have arguably not been as affected as those of graduated or current seniors. But still, freshmen have missed out on Friday night football games, a packed gym of a community rooting for the same team, and even the fall homecoming dance. Skelley and Reiners both agree that the biggest thing they have missed out on has been sporting events and dances. 

The transition from middle school to high school is tough and very unpredictable for most students. Starting your high school career amid a global pandemic though has never been heard of. 2020 has been a year of firsts for everyone.
About the Contributor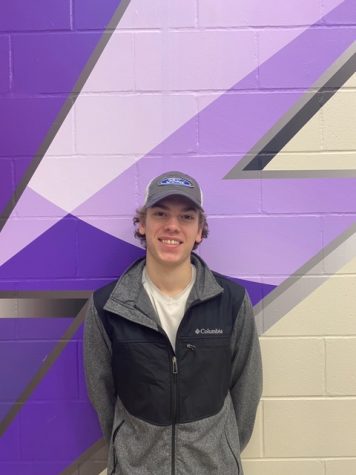 Luke Bollier, Reporter
Luke Bollier, junior, is a second year staff member. He plays on the baseball team and is involved in Difference Makers here at Liberty. He enjoys being...