Winter Break Recap
Both the Boys and Girls basketball teams' seasons are finally underway and hope to continue as we stay in the hybrid learning model.
Boys
The boy's team is off to a great start, winning both games before the break and also beating City High on January 5th. This starts the season with a 3-0 record.
The first game of the season was on December 18th against Prairie. The game was back and forth throughout, and Prairie even took a decent lead in the third quarter. But, a 4th quarter comeback outscoring Prairie by 15 brought home the first win of the season for the boys.
The leading scorers were seniors Ira Hazeltine and Kelby Telander with 16 and 15 points respectively. Senior Ethan O'Donnell also added 14 points.
"When we are hitting 3's, it really opens up the whole court for us. It gives us a huge energy boost because it's a lot easier to score on the inside without having to force things," said Hazeltine.
Telander was also the leading rebounder for the Bolts, grabbing seven boards and also adding two assists to his stat line.
Grayson Tyler, senior, made some clutch free throws late in the game, going six for eight in the game from the line. 
On Friday the 22nd, Cedar Rapids Jefferson came to Liberty for an MVC showdown. Jefferson came right out of the gate in the first half and had a 12 point lead at the half, 45-33. 
This is when Liberty finally showed up to the game, outscoring Jefferson 35-10 in the third quarter, Going into the fourth up 68-55. The Bolts closed the game and ended up winning 83-66 with their second win of the season. 
Telander was definitely the MVP of the game, scoring 27 points while shooting 66.7% from the field. Also, he grabbed 13 rebounds to a breakout
O'Donnell also had 18 points, and Hazeltine added 10 points to the team score. 
"We can't be satisfied with the start we've had. We have to keep coming in everyday with the mindset mindset to keep getting better everyday in order to reach our goals, which is to make it to state," O'Donnell said when asked how far he thinks this team can go.
In the first game back from winter break, the boys traveled to City High to take on the Little Hawks. They showed no mercy crushing City by 30 with a final score of 80-50.
O'Donnell led the team in scoring with 18 points. Junior Griffin Kraft had a season-high of 16 points, and Hazeltine also added 14. 
Telander led the team with eight rebounds, and Kraft added five boards to his breakout game.
Kraft was asked how he felt his performance was against City and responded with,
"Everyone was playing great all game and we were all hitting out shots. It really opened up the floor for me and I just took advantage of it and played more aggressive. If we keep playing at this level all season, there's no one in the state that can beat us."
Girls
Although the record they have may not be exactly how they would like to have started the season, the Liberty girls team has shown some great progress and looks forward to continuing this progression throughout the season.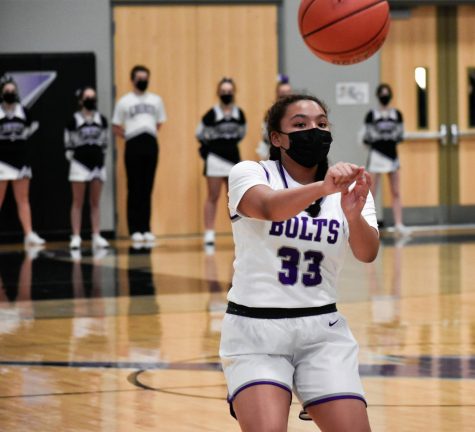 The girls' first game was also on December 18th against Prairie and although it was a 61-45 loss, the Bolts showed some great progress in their first game of the season.
Sophomore Ava Meyer was the leading scorer with 11 points, and Keiko Ono-Fullard, sophomore, added 10 points to the team's score.
Sophomore Kennedy Daugherty grabbed eight rebounds to lead the team, and Meyer had five as well.
"I feel like this year, we have a better team chemistry and are working better as a team," said Ono-Fullard.
This was an impressive start to the season, and even though it was a loss, they showed great leadership and teamwork throughout the game.
The second game was on December 22nd, traveling to Cedar Rapids to take on the J-Hawks. It was a very close game but unfortunately, the girls fell 56-52. 
Freshmen Brynlee Slockett, Sunny Yarnell, and Haley Schroeder all showed success in their first year with 12, eight and seven points respectively. Daugherty and Ono-Fullard also added eight points each.
"For our team being as young as we are, I think it's really a great opportunity for some of the freshmen to really step up and have a chance to prove themselves. I love being able to not only improve as a team but just getting to know the girls and coaches better!" Slockett said.
Daugherty was once again the leading rebounder with seven. Schroeder also led the team with seven assists.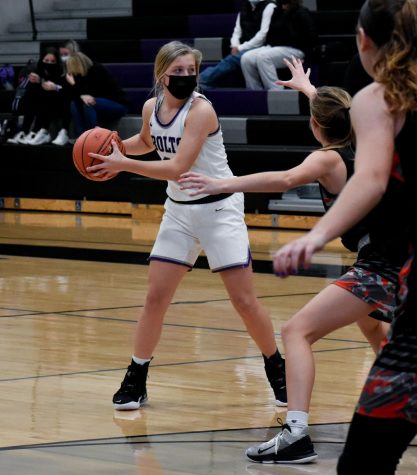 In the third game, they traveled to take on their cross-town rival City. City is a very impressive team, and the Bolts stayed with City for most of the game, which showed impressive grit and success for the team. City would end up winning the game 53-37.
Schroeder led the team with 11 points, while sophomore Avery Gaudet added eight points.
"We are a very young team which means we have leadership from the younger girls. I am glad to be a part of the team and glad I have a chance to prove myself right away. I am looking forward to continuing to improve with this team this season and my next three seasons at Liberty," Schroeder said.
Not surprisingly, Daugherty led the team in rebounds for her third time this season with eight. Her third time this season.
About the Writer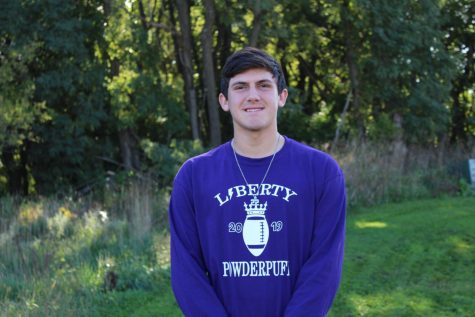 Zack Anderson, Social Media Chair
Zack is a senior at Liberty, and this is his second year as a part of the Live Wire staff. He plays golf and baseball for the Bolts. He also participates...