Super Bowl LV
The Live Wire previews Super Bowl LV.
This Sunday, the Tampa Bay Buccaneers will face off against the defending champion Kansas City Chiefs in Super Bowl 55. The game will be played in Raymond James Stadium in Tampa Bay, Florida, making it the first time that a team will be playing the Super Bowl on their home field.
Raymond James Stadium will be allowing fans, but it will be far from full capacity. The NFL will allow 22,000 fans and 7,500 vaccinated health care workers to attend the game, i.e. CBS Sports.
To make it to the Super Bowl, Patrick Mahomes and the Chiefs beat the Buffalo Bills 38-21 in the AFC championship game, which is their second time making it to the Super Bowl in two years. For the NFC, Tom Brady led the Bucs over the Green Bay Packers 31-26, giving him his first Super Bowl appearance away from the New England Patriots and the Buc's first appearance since 2003.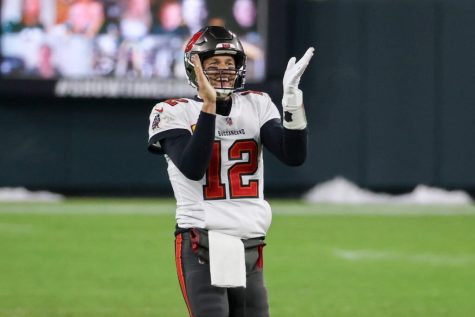 The Super Bowl is a familiar spot for both of these quarterbacks. Mahomes is 1-0 in the Super Bowl overall. He won on his first appearance last year against the San Francisco 49ers, 31-20. He is hoping to become the first quarterback to win back-to-back Super Bowls since Brady did with the Patriots in 2004 and 2005. 
For Brady, this will be his 10th Super Bowl appearance in 21 seasons, extending his lead over the next highest player (Stephen Gostkowski). With a Super Bowl record of 6-3, Brady appeared in his first Super Bowl when Mahomes was only seven years old according to The Athletic.
Brady not only holds the record for most Super Bowl appearances by any player, but he also holds the record for most Super Bowl wins (six), most Super Bowl MVPs (four), and being the oldest quarterback to win a Super Bowl at 42 years old (43 if he wins this year).
"
It's amazing and probably under-reported [what he has done]."
— Nate Oswald
Liberty's D-Line coach Nate Oswald gave Tom Brady major praise. Oswald also played football in college at Loras College.
"I'm 43 so major respect to the G.O.A.T.," said Oswald. "It's amazing and probably under-reported [what he has done]."
Aside from the quarterbacks, both teams have been very impressive throughout the regular season. The Chiefs' Tight End Travis Kelce led the team in receiving yards and touchdowns with 1,416 Yds and 14 TDs, which set the record for most receiving yards by a tight end in a single season in progress.
For the Bucs, their strong defense will try and stop the Chiefs' high-powered offense. The Bucs defense is led by linebacker Devin White, who racked up 166 total tackles and nine sacks leading into the game. They are also led by 347 lb defensive tackle Vita Vea, who is returning from an injury he had earlier this year. Vea had ten tackles and two sacks through five games before the injury. With the defense healthy again, they hope to shut Kelce and the Chiefs down.
"The Chiefs offense is stacked," said Alex Dueker, senior and huge NFL fan. "If the Bucs can't slow them down, then I don't think that the game will be as close as predicted."
The University of Iowa will definitely have produced a Super Bowl champion this year. With two players on both teams, Iowa is tied for the second-most players in the Super Bowl this year, only behind LSU. 
"[The Iowa football program] really know[s] how to develop second-tier high school prospects and make them into NFL players," said Oswald.
The current spread for the game is Chiefs by 3, with an over-under of 56.5 points according to ESPN. The game can be watched on CBS and will start around 5:30 pm on Sunday.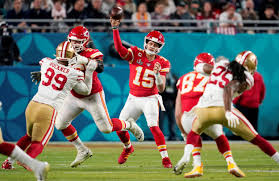 For predictions for the big game, everybody seems to think that it will be a close one.
"As far as numbers go, I don't really know, but I have to assume it will be very close. However, if I had to guess, I would say something around 27-21 Chiefs," said Emma Lanxon, freshman and Chiefs fan. "I think that the Chiefs can win if Patrick Mahomes has fully recovered from his injuries and is back at the top of his game."
Oswald thought something similar, "My heart says Bucs 31 to Chiefs 30, but my head says Chiefs 34 Bucs 27."
No matter what the final score ends up being, it is almost guaranteed to be a matchup for the ages. 
About the Contributor
Quincy Lohman, Copy Editor
Quincy Lohman, senior, is a first year staff member. He plays on the Liberty golf team and is a member of NHS. Outside of school, he enjoys traveling,...