Halloween Memories
Learn about some of your favorite teachers' fall memories!
Though a lot has changed over the years, many fall traditions have stayed the same. See what some of your favorite teachers have said they love about fall and Halloween! 
One Halloween memory Malyssa Oblander, Spanish teacher, shared was her parents' extravagant costumes and decorations, "One year, my dad dressed as Beetlejuice- like outfit, hair, makeup, everything. I remember the kids being terrified by him. He would tell them he had his name written three times on his shirt, and if they said 'Beetlejuice, Beetlejuice, Beetlejuice,' he would go away!" 
Now that she's a parent, Oblander says she enjoys spending her fall time outside with her family doing things such as feeding animals or picking pumpkins.
Shishonee Hughes, science teacher, shared about when her parents let her have her first Halloween party as a kid. "I remember the first time my parents let me have a Halloween party, we bobbed for apples- a traditional game at Halloween party- and pin the tail on the scarecrow, something silly like that." 
Hughes shared that her favorite part of fall now is the pumpkins, especially Pumpkin Lattes, "I actually don't like coffee but I love pumpkins so I'll get like a Pumpkin Spice Iced Chai. Anything Pumpkin-Pumpkin muffins, Pumpkin donuts-Basically anything pumpkin."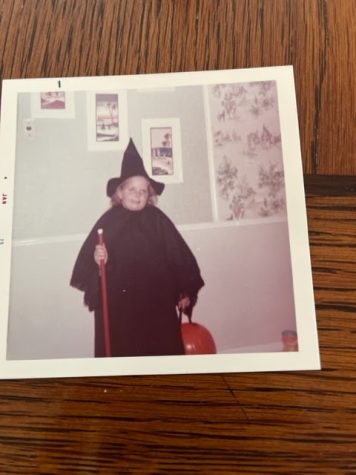 Deborah Wagner shared that one of her favorite parts of fall was the leaves. "I love leaves, raking leaves. When I was in grade school, we had pretty big trees at our house, raking leaves and doing the whole neighborhood and running and jumping in piles. We had really close together houses in the housing development I was in, so driveways were connected and there were huge trees so we had leaves everywhere. That's probably one of my favorite memories." 
Wagner shared that one of her all-time favorite fall movies is "The Great Pumpkin Charlie Brown." "Back when we were kids, primetime television had really specific things and it was only on once so it was like you had to watch it or you'd miss it."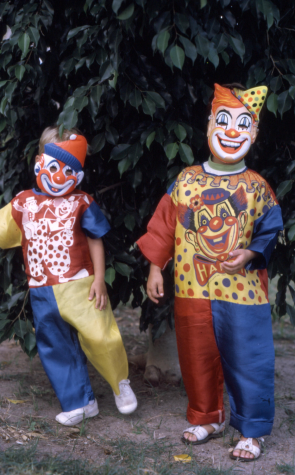 Jenny Saylor, art teacher, explained one of her core memories from Halloween were the costumes her mom made for her. 
"One year she made me this amazing frog head-it was like a big stuffed animal that fit over your head. I loved it and I loved that she made it for me." 
Saylor says one of her favorite parts of the fall is gardening. 
"It's the whole process of watching the weather, cleaning things out, and then the next part is processing all the produce. Right now, my dining room table is covered in tomatoes and squash."  
Mrs. Saylor's husband also makes an apple crisp during the fall time. She says together, she and her husband have made a habit of going to the apple orchard to purchase apples to use in the apple crisp.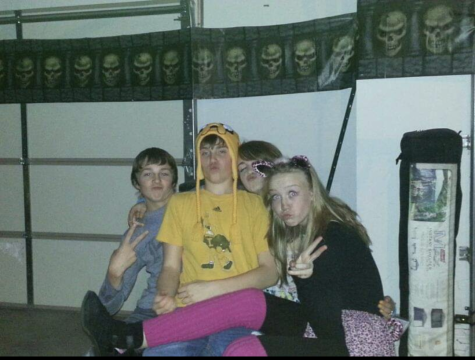 "Being at my grandparent's house, they had a bunch of trees in the back, so they would change when fall came around." Zach Lively, English teacher, shared "I just remember running down this huge hill they had in the back through all the leaves and it opens up to this big wide field in the back. To me, when I think of fall, I think of that memory." 
Lively also shared about a new fall activity he tried and really enjoyed, "I actually just recently went to the apple orchard, I didn't live near any apple orchards when I was younger and it was so fun to be able to go out with a bucket and pick apples and be with friends. I'd say that's becoming one of my new fall traditions."
About the Contributor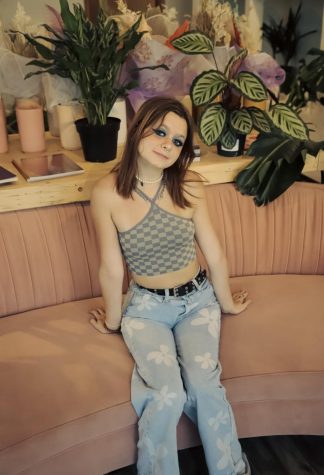 Jordyn Smith, Reporter
Jordyn is a senior at Liberty, this is her second year in Journalism. Outside of school, Jordyn enjoys shopping, exploring new places, and spending time...