The 92nd Academy Awards
This year was the 92nd Academy Awards, more commonly known as the Oscars.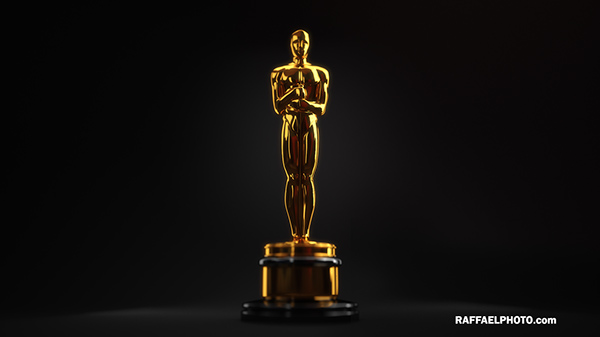 The Academy Awards, more commonly known as the Oscars, is an awards ceremony for the film industry. It is held yearly in Hollywood, California, and a way of commending the actors, actresses, directors, and everyone else behind the production of the chosen films. This year was the 92nd Academy Awards and was held on Feb. 9. 
This year, the movie Parasite was the first foreign language film to win best motion picture award at the Oscars among their four other awards. The film Joker also had a big night by bringing home the best actor award for Joaquin Phoenix. Reneé Zellweger won best actress for her role in the movie Judy. 
The best supporting actor and actress are also two very important awards. The winner for best supporting actor was Brad Pitt for his movie Once Upon a Time in Hollywood. The award for best actress went to Laura Dern for her role in Marriage Story. 
Dern gave an emotional speech thanking her parents following her win of best supporting actress. 
"And you know some say you never meet your heroes, but I say if you're really blessed, you get them as your parents. I share this with my acting heroes, my legends, Dianne Ladd and Bruce Dern," said Dern.
Ellen DeGeneres took to twitter following the Oscars in response to Pitt's acheivement and tweeted, "So happy for my friend, Brad Pitt. What an incredible win."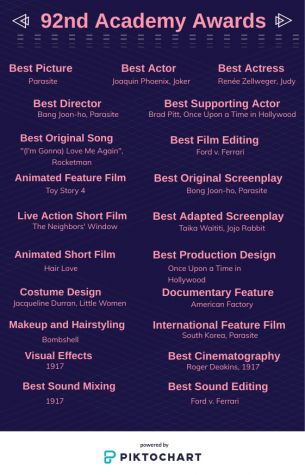 This year was the second consecutive year the Oscars hasn't had a host. In 2019 they planned on having comedian and actor Kevin Hart as their host, but after controversial tweets from his past surfaced, Hart apologized and stepped down from the gig. This year they tried to repeat their host-less night and replace the time with an opening performance by Janelle Monáe.
There were many musical performances that stood out, but Eminem's performance was certainly the most striking and unexpected. Eminem performed his hit song "Lose Yourself" and got a standing ovation from the crowd. Though most at the Oscars were amused by his performance, some at home criticized it because they didn't think his performance had a place at the Oscars. It was a surprise performance to make up for when he won an Oscar in 2003 for best original song, "Lose Yourself" from the movie 8 Mile and wasn't there to claim his award. 
Every year the Oscars have a segment dedicated to respecting those who have passed in the film industry. They received a lot of backlash for leaving two actors out of the memoriam: Luke Perry and Cameron Boyce. Perry was an actor in Once Upon a Time in Hollywood, and Boyce was a prominent actor for Disney. 
Boyce passed away in July 2019 at just twenty years old of a seizure. The family said he passed away from ongoing health problems, which was later released as epilepsy. Perry passed away from a stroke in March 2019.
The Academy later responded to the backlash they received for not including these actors. They explained how they have a limited amount of time to represent those who passed and there were over a hundred people who could have been included. They also addressed how there is a full video and list on their website that includes their names along with others who weren't mentioned at the Oscars.
About the Writer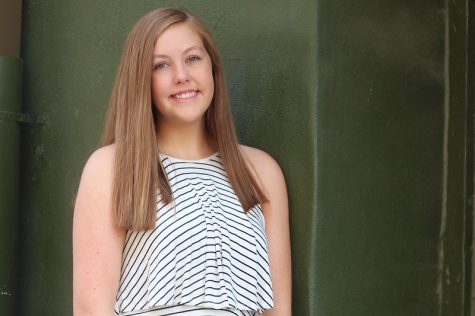 Elizabeth Barnett, Writer
Elizabeth Barnett, most commonly known as Liz, is a first-year writer on the Live Wire staff. She is a sophomore at Liberty, and is involved in volleyball...