The Rise of Reselling
The increase of expensive, limited edition shoes and clothes are becoming a part of the culture at Liberty. Are these items considered art, or are they a waste of money?
To a sneakerhead, every shoe has a story behind it. Whether that would be that Michael Jordan wore the shoe to make a game-changing shot in the NBA Championship, or that the shoe was the first sneaker to ever actually represent a single thing. To others, it's just a waste of money to spend $300+ on a single pair of shoes. Expensive shoes have been becoming more popular each day at Liberty.
Reselling is buying a shoe for retail or much below resale value, and then selling it for more, sometimes making more than $500 in profit. This has been one of the biggest reasons why expensive sneakers have been making more of a statement at Liberty.  Sam Taylor, junior, recently moved to North Liberty from Utah and he would consider himself a "reseller".
 "I would say that I am a reseller. I sell more shoes than I keep, but I mostly sell shoes so I can have money for the pairs I really want," said Taylor.
Taylor was introduced to the reselling community when he started a job at a shoe store.
"I would say working at Footlocker got me into shoes, it really kind of opened my eyes to how the community works and I've enjoyed it from the start." He also explained how sneakers have made a positive impact on his life," said Taylor.
"
I'm sure I could find something in their life that they spend money on that might not be necessary but it brings them joy and it brings a lot of people in the sneaker community joy to spend money on shoes.
— Sam Taylor
Although there is a big market for high-value shoes, many people think spending that much money on shoes is a huge waste of money. 
"I'm sure I could find something in their life that they spend money on that might not be necessary but it brings them joy and it brings a lot of people in the sneaker community joy to spend money on shoes," said Taylor.
Sneaker reselling can be very good for both parties. For one, selling shoes for more money than you paid for them makes you money, and on the other side, you're getting the shoes you want. Sunny Yarnell, sophomore, has been into sneakers for a long time, her interest even grew in them when her dad decided that he wanted to open up a sneaker store.
 "My dad has been collecting shoes for probably the past few years, changing his collection, selling shoes, going with him to shoe deals, and so I've always had a thing for sneakers," said Yarnell.
Some shoe fanatics collect shoes for the story value behind a shoe, and to others, "[It's] a status symbol for sure. My dad takes lots of pride in his shoes so he doesn't really see it as a status symbol, he sees it more as if it looks good then it looks good," said Yarnell.
Some think that people base their whole personality around the shoes they have or how much money they cost. 
"I feel like you can definitely base someone's personality off of what they're wearing, but at the same time, if you compare me and Sam (Taylor), we're definitely two opposite people but we have common interests," said Yarnell.
Many "sneakerheads" try to pull away from the "hypebeast" persona because the "hypebeast" would only buy a shoe because it's limited or because they can make money off of them. A "sneakerhead" would buy a shoe, not because of the resell value or because it's extremely limited, they would buy a shoe because they actually like it and they would wear it. 
Many people came into the sneaker game when Kanye West released his signature shoe, Yeezys. The recent success around sneakers is partly tied to Yeezys. Since rap music was also becoming very popular at the time Kanye released his shoe, that only helped the success of Yeezys in the shoe industry. Since Kanye is a music artist, he has been able to promote his shoes very easily throughout his songs. In his album "The Life of Pablo" Kanye repeats Yeezy multiple times throughout the song, also saying that, "Yeezy just jumped over Jumpman," referencing that his shoe brand is better than Jordan.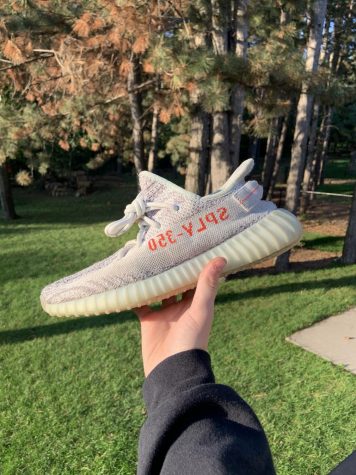 Last year alone, the Yeezy brand brought in roughly $1.7 billion dollars in sales. The Yeezy 350 V2 is one of the most popular models of sneakers in the reselling world. Data from the luxury consignment store, TheRealReal, says the Yeezy's can hold their value better than most other sneaker brands. Yeezys resale value can sometimes even have an average resale value of up to 589% of its original price.
Despite these numbers, Noah Meints, paraprofessional, thinks that spending a lot of money on shoes is a waste.
"I would say it's not worth it because who would want to spend more than $300 on a pair of shoes," said Meints.
Some people may argue that buying a pair of shoes is as simple as clicking the purchase button and is not that big of a deal. To others, there is much more consideration going into buying a pair such as the material it's made out of, if there was a collaboration done with the shoes, the availability of the shoes, etc. 
"I'd say [sneakers have] had a positive impact. It's helped me make friends, helped me make money, and it's probably just brought more self-confidence into my life by having cool shoes," said Taylor.