Return of the Hawk Fans
Kinnick Stadium opened back up to football fans this season. Many Liberty students were excited to attend and show their support in-person.
Give me an "I-O-W-A"! The cheers flood the audience of the Iowa football games. The Hawkeye fans happily returned to the stadiums this year after COVID put a pause on fan attendance for the 2020 season. Liberty is filled with UI fans that were excited to continue their traditions, and enjoy the true magic of a Hawkeye game.
Brityn Gryp, junior, felt she missed out on last season with no attendance.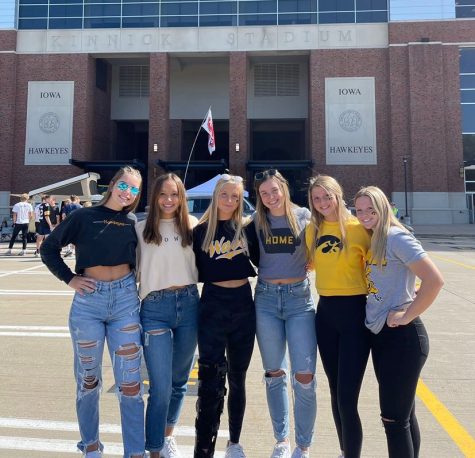 Gryp said: "Last season when we couldn't go to any Iowa games, it was really sad because that whole experience was so fun and special. Tailgating with your friends and family, Hawkeye wins, and the U of I environment is generally unmatched."
This year, she was happy that she got to go to a few games with her people.
Gryp said: "This year getting to be back in Kinnick was so special! It made me appreciate the games a lot more. I've been going to football games for as long as I can remember, and it's always been one of my favorite things."
Marrin Zwanziger, sophomore, has been attending games with her family since she was nine years old, so coming back to the games was highly anticipated. The true Hawkeye football event was not the same from home.
Zwanziger said: "We watched them at home [last year], but I was very eager to get back in the stadium."
The first game back was against Indiana and had sold out tickets with about 68,166 happy fans returning.
With fans back, the famous wave to the kids at the Steads Family Children's Hospital began again. Hawkeye Wave 2021
Zwangziger said: "I think the Iowa wave is a really great tradition and it's always really meaningful to do every game. And just the connection with the fans [is very special]."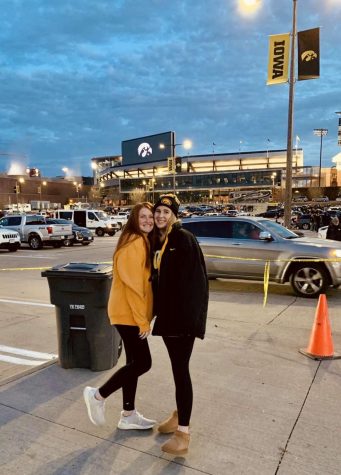 There is nothing quite like the love behind the wave. Abby Stapleton, junior, attended a couple of games this year and had a mutual feeling about the tradition. Stapleton said: "My favorite memory from the games this year was the wave. It gives me chills every time we do it. I love it so much"
Another tradition that continued this year was the many tailgates flooding the streets around Kinnick Stadium.
Zwangzigers family gets there bright and early to get ready to celebrate.
Zwanziger said: "We usually get there three or four hours before the game. There is always a lot of food, music, and It's just really fun."
Many Liberty students participate in tailgating activities and are often seen walking around. There is no doubt that there are many familiar faces all around on game days, which may only make it better.
Stapleton said: "My favorite pre-game tradition is tailgating. I love to see a ton of people. My favorite part is walking around all the tailgates because it is a super special place during Iowa football games to see all those people you know."
The pregame traditions were one to be excited about again, but the games themselves were like no other.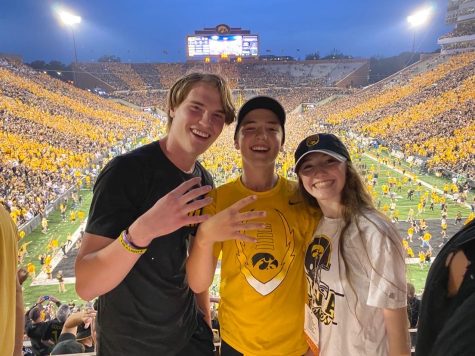 Vaughn Tyler, sophomore, has been attending Iowa football games for the past 11 years since he was about 4 years old. He is a big Hawkeye fan and coming back was very exciting.
Tyler said: "My favorite memory from this season was when we beat Iowa State because they will always be the little 'bro' of Iowa."
There were many special moments this season that stuck around in the minds of the fans.
The Penn State game, especially, was a huge game for the Hawks. In a very rocky game, they won 23-20, which led to a happy reaction from the fans. As the time on the clock ran out, the fans stormed the field in a mix of black and yellow lines.
Gryp said: "My favorite memory of this year was the Iowa v. Penn State game. The crowd was absolutely ecstatic the whole time, and the loudest I've ever heard. When we won, rushing the field was so cool!"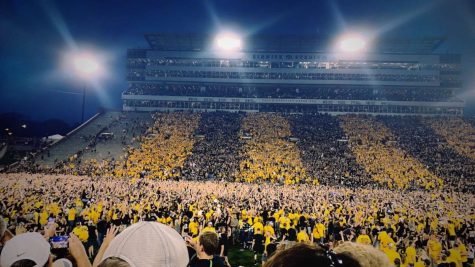 Hawkeye fans may be something else… in a good way.
Like Abby Stapelton said, "It's just a unique experience. There's not much else like it."
About the Contributor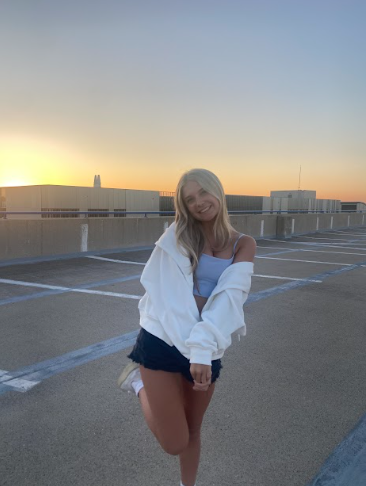 Jocelyn Klein, Reporter
Jocelyn is a senior at Liberty and this is her third year on the newspaper staff. She participates in numerous sports that she would not like to name....