Liberty's Up and Coming Speech Team
Liberty's speech team has only been active for two years but are already thriving.
The Liberty High School speech team is a relatively new club, but by their second year, the team is making tremendous progress. The team is led by English teacher Kimberly Sleezer, who also judged and competed with the IHSSA (Iowa High School Speech Association). The Liberty High Speech Team competed in the large group speech division for the very first time and did quite well. This accomplishment, however, did not come without obstacles.
Before the speech season even started, Sleezer had to work on recruiting kids for the 2021-2022 team.
"[The biggest challenge] was building the large group team because of students not knowing about it, [also] working around everyone's schedules to make sure students who want to be involved could be involved, and still do other things," explained Sleezer.
Since October, large speech groups have been preparing for competition. This year, two improv groups and one radio newsgroup entered into the competition. In the improv division, groups have to pick one out of three randomized situations. Right after a situation is chosen, groups perform in front of the judges based on what they picked. In a ratio group, members record a news broadcast that is then shown at the competition. District and state speech competitions are scored from 1-4 with one being the best. At district competitions, you need a 1 to move on to state. This year in the large group, two groups made it to state. An improv group led by two sophomores, Nicole Elmer and Kaylee Cavanh, got straight 1's from three judges at state.
Researching two days a week, this high-scoring group would go through multiple random improv prompts such as running through traffic or toilet TP-ing a house. In this category, you have to establish a story.
"We would draw prompts and go over strategies on how we could make the [scene] more interesting, how to start a conflict and how we can characterize," Cavanh explained.
Speaking in front of an audience can be nerve-racking for anyone, especially when you have to expect the unexpected.
Cavanh's scene partner, Nicole Elmer, is no stranger to the stage, however, this is her first year in an improv group.
"Before I went on, I was anxious but excited. I was worried about getting topics that we didn't know how to go off of," said Elmer. "When we were done, I didn't think we had done the best [we could] but we had lots of fun. [I remember that] when we were waiting for the results to come out I was sitting with my dad and step brother, after seeing the results I started jumping and cheering."
"
Before I went on, I was anxious but excited. I was worried about getting topics that we didn't know how to go off of.
— Nicole Elmer
Now that large group season is over, individual competition is right around the corner. Competing in 9 different categories, the Liberty Speech team is ecstatic to be competing in-person for individuals for the first time since 2020.
The Liberty Speech team doesn't plan to stop yet. Sleezer has big aspirations for the next following years.
"My goal is to have enough students for readers theater and coral reading and hopefully, take those groups to district, to state, and maybe have a few all-state nominations. For individuals, we are hoping to double our entries to the competition," comments Sleezer.
As a member of the Liberty Speech Team, there are many benefits to joining speech. Nothing beats the feeling of performing, the jitters you get before you get on, or the moment you know you nailed it. If you are interested in joining speech for next year, you can contact Mrs. Sleezer at [email protected].
About the Contributor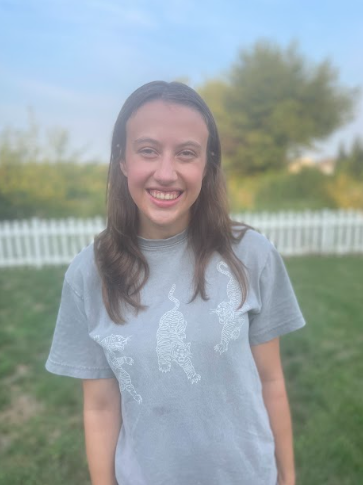 Megan Quinn, Editor-in-Chief
Megan is a senior at Liberty. This is her third year on staff and she is the editor-in-chief for the 2023-2024 school year. She is involved in theatre,...